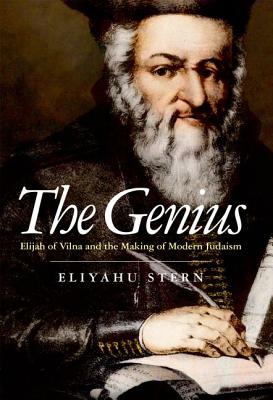 The Genius
Elijah of Vilna and the Making of Modern Judaism
Hardcover

* Individual store prices may vary.
Other Editions of This Title:
Paperback (7/1/2014)
Description
Elijah ben Solomon, the "Genius of Vilna, was perhaps the best-known and most understudied figure in modern Jewish history. This book offers a new narrative of Jewish modernity based on Elijah's life and influence.
While the experience of Jews in modernity has often been described as a process of Western European secularization with Jews becoming citizens of Western nation-states, congregants of reformed synagogues, and assimilated members of society Stern uses Elijah's story to highlight a different theory of modernization for European life. Religious movements such as Hasidism andanti-secular institutions such as the yeshiva emerged from the same democratization of knowledge and privatization of religion that gave rise to secular and universal movements and institutions. Claimed by traditionalists, enlighteners, Zionists, and the Orthodox, Elijah's genius and its afterlife capture an all-embracing interpretation of the modern Jewish experience. Through the story of the Vilna Gaon, Stern presents a new model for understanding modern Jewish history and more generally the place of traditionalism and religious radicalism in modern Western life and thought.
Praise For The Genius: Elijah of Vilna and the Making of Modern Judaism…
 "Stern's study will become the first resort for anyone seeking to understand the place of Elijah of Vilna in the modern Jewish experience. This is a learned, innovative and important book that, for the first time, situates the Gaon in both his time and his place. Moreover, the work contributes significantly to a re-evaluation of the emphases appropriate to the study of Jewish history in the modern period."—Gershon David Hundert, McGill University 

-Gershon David Hundert

 "Elli Stern's study of the great Gaon of Vilna is a considerable contribution to the study of Jewish genius. Though the Gaon now tragically represents the murdered culture of East European Jewry, his example remains a beacon for the entire Judaic intellectual and spiritual enterprise."—Harold Bloom 
-Harold Bloom

 "Explaining much of the reality behind the Gaon's mystique, Stern shows that in many respects he was even greater than his hagiographers ever imagined. Stern has made a major contribution to our understanding of East European Jewry."—Shaul Stampfer, Hebrew University
-Shaul Stampfer
Yale University Press, 9780300179309, 322pp.
Publication Date: January 22, 2013
About the Author
Eliyahu Stern is assistant professor of modern Jewish intellectual and cultural history at Yale University.
or
Not Currently Available for Direct Purchase