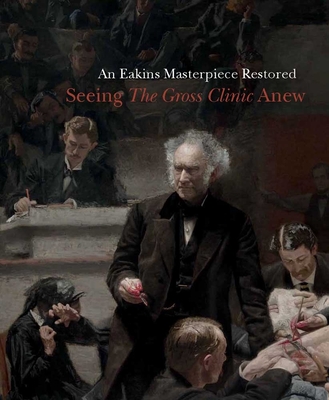 An Eakins Masterpiece Restored
Seeing "The Gross Clinic" Anew
Paperback

* Individual store prices may vary.
Description
Thomas Eakins (1844–1916) is acknowledged as one of the preeminent American painters of the 19th century. As a young artist in 1875 he prepared a monumental painting for the Philadelphia Centennial of Dr. Samuel D. Gross of Jefferson Medical College. Rejected by the selection committee for being too gruesome, The Gross Clinic is hailed today as the artist's masterpiece. Purchased by the medical college, the work was a fixture there until 2006, when its threatened sale prompted thousands to donate funds to keep it in Philadelphia through a joint acquisition by the Philadelphia Museum of Art and the Pennsylvania Academy of the Fine Arts.
Kathleen A. Foster and Mark S. Tucker update the story of The Gross Clinic to the present day. They draw on discoveries made during the 2009–10 project to look more deeply into the history, aesthetics, and technique of the painting. Through their discussion, complemented by interpretations from the perspectives of cultural and medical history by Steven Conn and Mark S. Schreiner, M.D., respectively, this celebrated painting can now be understood anew.
Yale University Press, 9780300179798, 184pp.
Publication Date: July 3, 2012
About the Author
Kathleen A. Foster is The Robert L. McNeil, Jr., Senior Curator of American Art and director of the Center for American Art at the Philadelphia Museum of Art. Mark S. Tucker is vice chair of conservation and The Aronson Senior Conservator of Paintings at the Philadelphia Museum of Art.
or
Not Currently Available for Direct Purchase