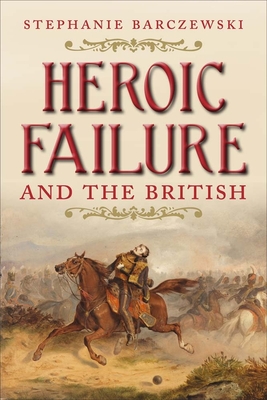 Heroic Failure and the British
Hardcover

* Individual store prices may vary.
Description
From the Charge of the Light Brigade to Scott of the Antarctic and beyond, it seems as if glorious disaster and valiant defeat have been essential aspects of the British national character for the past two centuries. In this fascinating book, historian Stephanie Barczewski argues that Britain's embrace of heroic failure initially helped to gloss over the moral ambiguities of imperial expansion. Later, it became a strategy for coming to terms with diminishment and loss. Filled with compelling, moving, and often humorous stories from history, Barczewski's survey offers a fresh way of thinking about the continuing legacy of empire in British culture today.
Praise For Heroic Failure and the British…
"The author has hit on a rich and fascinating subject…Heroic Failure has some sharp truths to tell about Victorian Britain"—John Carey, Sunday Times 
— Sunday Times

"A psychological history. Barczewski maps out trends in British thought and intertwines conjecture about where they have come from... I enjoyed the quest of it; and something about Barczewski evident and fervent anglophilia almost left me feeling quite proud of being Britis.h"—Hugo Rifkind, Times
— Hugo Rifkind

"Stephanie Barczewski, with all the post-colonial detachment that comes naturally to an American academic, gives a long and stirring list… she retells the old heroic tales with a narrative touch and a delicate irony which avoids condescension."—Ferdinand Mount, London Review of Books
— Ferdinand Mount

"An entertaining and well-written book."—Jad Adams, History Today
— Jad Adams
Yale University Press, 9780300180060, 280pp.
Publication Date: March 22, 2016
About the Author
Stephanie Barczewski is professor of history at Clemson University and the author of Titanic: A Night Remembered, among other books. She lives in Greenville, SC.
or
Not Currently Available for Direct Purchase