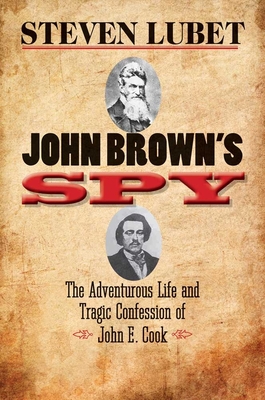 John Brown's Spy
The Adventurous Life and Tragic Confession of John E. Cook
Hardcover

* Individual store prices may vary.
Description
The first full investigation of John Brown's trusted co-conspirator and his betrayal of the doomed Harper's Ferry raiders

John Brown's Spy tells the nearly unknown story of John E. Cook, the person John Brown trusted most with the details of his plans to capture the Harper's Ferry armory in 1859. Cook was a poet, a marksman, a boaster, a dandy, a fighter, and a womanizer—as well as a spy. In a life of only thirty years, he studied law in Connecticut, fought border ruffians in Kansas, served as an abolitionist mole in Virginia, took white hostages during the Harper's Ferry raid, and almost escaped to freedom. For ten days after the infamous raid, he was the most hunted man in America with a staggering $1,000 bounty on his head.
Tracking down the unexplored circumstances of John Cook's life and disastrous end, Steven Lubet is the first to uncover the full extent of Cook's contributions to Brown's scheme. Without Cook's participation, the author contends, Brown might never have been able to launch the insurrection that sparked the Civil War. Had Cook remained true to the cause, history would have remembered him as a hero. Instead, when Cook was captured and brought to trial, he betrayed John Brown and named  fellow abolitionists in a full confession that earned him a place in history's tragic pantheon of disgraced turncoats.
Praise For John Brown's Spy: The Adventurous Life and Tragic Confession of John E. Cook…
"John Brown inspired millions as a martyr for liberty, but he convinced just twenty-one men to fight with him at Harper's Ferry. The most colorful and morally complex of them was John Cook—a lisping libertine, a crack shot, a spy who couldn't stop talking. Steven Lubet's rich and revelatory account of Cook's amazing life and confounding death is a wartime adventure and a legal thriller, a personal odyssey and an important American story."—Daniel J. Sharfstein, author of The Invisible Line: A Secret History of Race in America
— Daniel Sharfstein

"An important book that sheds new light on a long-neglected chapter of the John Brown story. Lubet's original research and easy, flowing writing style make this a welcome addition to any John Brown library."—Brian McGinty, author of John Brown's Trial
— Brian McGinty

"A beautifully told tale, John Brown's Spy takes a fresh angle on Brown's legendary slave rising. Focusing on the story of John Cook, Brown's deeply flawed key lieutenant, Steven Lubet illuminates both the enormity of the historical event and Brown's unique moral power."—David O. Stewart, author of Impeached: President Andrew Johnson and the Fight for Lincoln's Legacy
— David O. Stewart

Honorable Mention at the 2012 Southern California Book Festival in the Non-Fiction category

— 2012 Honorable Mention for the Southern California Book Festival in the Non-Fiction category

"Compulsively readable…A behind-the-scenes look at both this gentleman rogue and all the machinations that led to the disastrous raid and the trial and imprisonment of both Brown and Cook…Lubet sustains a compelling narrative …while strewing his tale with fascinating details… Riveting."—Booklist (Starred Review)
— Booklist

"With a dramatist's gift for storytelling, Lubet brings to life John E. Cook, a key coconspirator in the 1859 raid on Harpers Ferry...The particular genius of Lubet's book is in his accounting of Cook and the other men in Brown's so-called army, most of whom have been little studied... Take[s] readers on a ride through the frantic days surrounding Brown's raid that will make them "feel" the moment as much as understand it."—Library Journal, Starred Review  
— Library Journal

"As compelling as in an adventure novel. . . Lubet's depiction of the trial and the various strategies and arguments employed is riveting. . . . Enlightening. . . . An unforgettable story."—Robert I. Girardi, Washington Independent Review of Books 
— Robert I. Girardi

Finalist for the 2013 Society of Midland Authors literary awards in the Biography category.
— Literary Awards

Honorable Mention for the 2012 Southern California Book Festival in the Non-Fiction category.
— Southern California Book Festival
Yale University Press, 9780300180497, 336pp.
Publication Date: November 13, 2012
About the Author
Steven Lubet is Williams Memorial Professor of Law at Northwestern University, a leading expert in the fields of trial advocacy and legal and judicial ethics, and the author of several books dealing with nineteenth-century criminal cases. He lives in Evanston, IL.
or
Not Currently Available for Direct Purchase