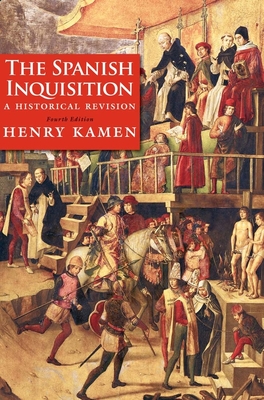 The Spanish Inquisition (Paperback)
A Historical Revision
Yale University Press, 9780300180510, 512pp.
Publication Date: May 27, 2014
* Individual store prices may vary.
Description
In this completely updated edition of Henry Kamen's classic survey of the Spanish Inquisition, the author incorporates the latest research in multiple languages to offer a new—and thought-provoking—view of this fascinating period. Kamen sets the notorious Christian tribunal into the broader context of Islamic and Jewish culture in the Mediterranean, reassesses its consequences for Jewish culture, measures its impact on Spain's intellectual life, and firmly rebuts a variety of myths and exaggerations that have distorted understandings of the Inquisition. He concludes with disturbing reflections on the impact of state security organizations in our own time.
About the Author
Henry Kamen is a fellow of the Royal Historical Society and a world authority on Spanish history. He lives in Greensboro, GA, and Barcelona, Spain.
Praise For The Spanish Inquisition: A Historical Revision…
"Henry Kamen's The Spanish Inquisition: A Historical Revision remains the best one-volume survey of this well-studied institution . . . lucid, engagingly written."—Gretchen Starr-Lebeau, Journal of Religion
"Kamen's 1965 The Spanish Inquisition set a standard of clarity and objectivity in a traditionally contentious field. This new edition, the fruit of 50 years of scholarship and meditation, corrects with hard facts and penetrating analysis many entrenched myths about Spain and her 350-year-long Inquisition. It will set the agenda for the next generation of Spanish intellectual historians."—David Gitlitz, author of Secrecy and Deceit: The Religion of the Crypto-Jews
"Kamen's work remains the most accessible, comprehensive, and substantively argued English-language introduction to the Spanish Inquisition."—Kimberly Lynn, Western Washington University