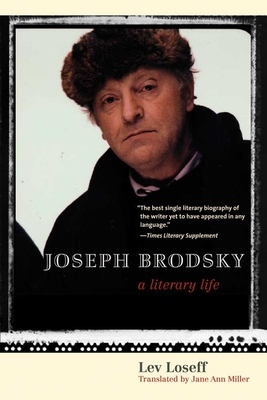 Joseph Brodsky (Paperback)
A Literary Life
Yale University Press, 9780300181609, 352pp.
Publication Date: February 14, 2012
* Individual store prices may vary.
Description
An intimate, penetrating study of Joseph Brodsky's life and work, written by his lifelong friend, the eminent Russian literary scholar Lev Loseff

The work of Joseph Brodsky (1940–1996), one of Russia's great modern poets, has been the subject of much study and debate. His life, too, is the stuff of legend, from his survival of the siege of Leningrad in early childhood to his expulsion from the Soviet Union and his achievements as a Nobel Prize winner and America's poet laureate.
In this penetrating biography, Brodsky's life and work are illuminated by his great friend, the late poet and literary scholar Lev Loseff. Drawing on a wide range of source materials, some previously unpublished, and extensive interviews with writers and critics, Loseff carefully reconstructs Brodsky's personal history while offering deft and sensitive commentary on the philosophical, religious, and mythological sources that influenced the poet's work. Published to great acclaim in Russia and now available in English for the first time, this is literary biography of the first order, and sets the groundwork for any books on Brodsky that might follow.
About the Author
Lev Loseff was professor of Russian and chair of the Russian language and literature department at Dartmouth College. He published eight collections of verse and fiction in Russian, as well as numerous works of criticism. Jane Ann Miller is a Russian-English interpreter and translator. Her previous translations include works by Joseph Brodsky, Yuz Aleshkovsky, Ludmilla Petrushevskaya, and Yegor Gaidar.
Praise For Joseph Brodsky: A Literary Life…
Praise for Joseph Brodsky: A Life (Russian edition):
"The best single literary biography of the writer yet to have appeared in any language."—Times Literary Supplement
— Times Literary Supplement
"…[a] warm and appreciative study."—Derek Mahon, Literary Review
— Derek Mahon
"A delightful literary biography. . . . This work is a pleasure, and it sheds light on unexpected details about the poet."—D. Hutchins, CHOICE
— D. Hutchins
"Wonderfully full and yet concise, both scholarly and elegant at the same time. A necessary guide to Brodsky's poems."—Andrei Zorin, Oxford University
— Andrei Zorin
"The first authoritative literary biography of Nobel-prize winning Russian-American poet, Joseph Brodsky. This is a book.which will remain the canonical work for years to come."—Jane Taubman, Amherst College
— Jane Taubman
'Witty, urbane, engaging. . . . Lev Loseff, an important Russian poet in his own right, provides a wealth of new, important information. A magnificent contribution."—David M. Bethea, University of Wisconsin-Madison
— David M. Bethea
"The author of
Joseph Brodsky: A Literary Life
has accomplished the feat of discussing a poet's work persuasively in a language other than his own, and allowed us to glimpse the unique brilliance of the originals."—Carol Rumens,
The Independent
— Carol Rumens
"Joseph Brodsky: A Literary life handles the life with intelligence and tact, while its treatment of Brodsky's art and mind will remain of permanent value."—Andrew Kahn,
Times Literary Supplement
— Andrew Kahn
"Lev Loseff's
Joseph Brodsky
is partly a biography of the Nobel-Prize winning poet (though Loseff denies that biography was his intention) as well as a critical study and a memoir. It's valuable on all three counts….
Joseph Brodsky
is a pleasure to read."—Mark Jay Mirsky,
Hareetz (English)
— Mark Jay Mirsky
"….indispensable…."—Stephan Delbos, The Prague Post
— Stephan Delbos
"Loseff 's book is less the story of Brodsky's life than an account of the growth of the poet's mind, the kind of book that is rarely written in English now, as it falls between the monograph and biography."—Justin Quinn, Edinburgh Review
— Justin Quinn
"…a meditation on the essential nature of poetry and the poet through the contrasting examples of two friends."—Atar Hadari,
Jewish Quarterly
— Atar Hadari
"The academic and poet Lev Loseff takes the reader through the fascinating life and work of his fellow Russian poet and friend Joseph Brodsky…Loseff provides much insight into Brodsky's personal and literary life under Stalin and Krushchev, as well as detailed commentary on the development of Brodksy's poetry."— Pol O Mulrl,
Irish Times
— Pol O Mulrl
or
Not Currently Available for Direct Purchase