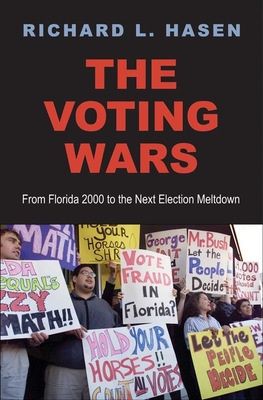 The Voting Wars
From Florida 2000 to the Next Election Meltdown
Hardcover

* Individual store prices may vary.
Other Editions of This Title:
Paperback (8/13/2013)
Description
In 2000, just a few hundred votes out of millions cast in the state of Florida separated Republican presidential candidate George W. Bush from his Democratic opponent, Al Gore. The outcome of the election rested on Florida's 25 electoral votes, and legal wrangling continued for 36 days. Then, abruptly, one of the most controversial Supreme Court decisions in U.S. history, Bush v. Gore, cut short the battle. Since the Florida debacle we have witnessed a partisan war over election rules. Election litigation has skyrocketed, and election time brings out inevitable accusations by political partisans of voter fraud and voter suppression. These allegations have shaken public confidence, as campaigns deploy "armies of lawyers" and the partisan press revs up when elections are expected to be close and the stakes are high.
Richard L. Hasen, a respected authority on election law, chronicles and analyzes the battles over election rules from 2000 to the present. From a nonpartisan standpoint he explores the rising number of election-related lawsuits and charges of voter fraud as well as the decline of public confidence in fair results. He explains why future election disputes will be worse than previous ones—more acrimonious, more distorted by unsubstantiated allegations, and amplified by social media. No reader will fail to conclude with Hasen that election reform is an urgent priority, one that demands the attention of conscientious citizens and their elected representatives.
Also available: The Fraudulent Fraud Squad, an e-excerpt from The Voting Wars
Released February 2012   9780300187489   $1.99
Praise For The Voting Wars: From Florida 2000 to the Next Election Meltdown…
"This is a Stephen King novel for election junkies.  No one has a better eye for the next big thing in election law than Rick Hasen.  The Voting Wars provides an engaging, highly readable guide to the thrill ride we call election season."—Heather Gerken, author of The Democracy Index:  Why Our Election System is Failing and How to Fix It
— Heather Gerken


"One of the most disturbing recent US political developments is the rapid growth of election administration litigation.  Professor Hasen has masterfully described this trend, showing how political parties seek to gain advantage through election recounts, voter id laws, absentee ballot procedures, and the like. Scholars, journalists and interested citizens will benefit from Hasen's insightful overview of this struggle and the potential for even more election related controversy and litigation in the future."—Bruce Cain, Heller Professor of Political Science, University of California, Berkeley
  
— Bruce Cain


"Just in time for the election, Rick Hasen brings this essential reminder of all the lessons never learned after Bush v. Gore. If we don't course-correct our partisan voting systems and ever more partisan efforts to remedy them, Hasen reminds us that we are looking into the face of a democratic disaster."—Dahlia Lithwick, Senior Legal Correspondent, Slate magazine
— Dahlia Lithwick


"Nobody knows more about elections and election law than Rick Hasen, and nobody writes more clearly about their complexities. The Voting Wars is a straightforward, clear-headed unbiased account of our flawed system, the multiple damaging controversies we have incurred as a consequence, the polarization that has both caused the problems and been exacerbated by them, and the risky path ahead. What a timely and important book!"—Norman J. Ornstein, Resident Scholar, American Enterprise Institute
— Norman J. Ornstein


"Hasen has done a masterful job of describing the post-Florida 2000 battles over election registration, voting, and vote-counting. This book is a compelling read, and guide to the partisan battleground aptly titled The Voting Wars. Unfortunately, as Hasen explains, our election system is still precariously positioned, needing only one more bad series of events to create the next Presidential election crisis."—Trevor Potter, Former Commissioner and Chair, Federal Election Commission, and General Counsel, McCain for President, 2000 and 2008
— Trevor Potter


"Hasen is a national treasure to students and practitioners of election law. His Voting Wars is a colorful, trenchant, fair-minded and powerfully-argued account of how partisanship and localism continue to haunt the administration of American elections more than a decade after Bush v. Gore and threaten yet another election meltdown."—Thomas E. Mann, W. Averell Harriman Chair and Senior Fellow, The Brookings Institution

— Thomas E. Mann


"The Voting Wars is a spirited, and deeply disturbing, chronicle of the nonstop partisan skirmishing over voting rights, procedures, and laws that has become a pervasive presence in American politics since the disputed 2000 election. It would be difficult to read Hasen's informed and fair-minded account and not worry about the future of American democracy."—Alexander Keyssar, author of The Right to Vote: The Contested History of Democracy in the United States
— Alexander Keyssar

"[A]stute."—Kirkus Reviews
— Kirkus Reviews


"In his well-drawn analysis, UC-Irvine law and political science professor Hasen considers unwieldy procedures, conflicting state laws, politically motivated election challenges, and legal follies that undermine public confidence in the voting process. . . . Hasen's timely and factually rich account merits attention from jurists, policy specialists, and government reformers of all political stripes."—Publishers Weekly
— Publishers Weekly
Yale University Press, 9780300182033, 256pp.
Publication Date: August 14, 2012
About the Author
Richard L. Hasen is Chancellor's Professor of Law and Political Science, University of California, Irvine School of Law. He lives in Studio City, CA.
or
Not Currently Available for Direct Purchase