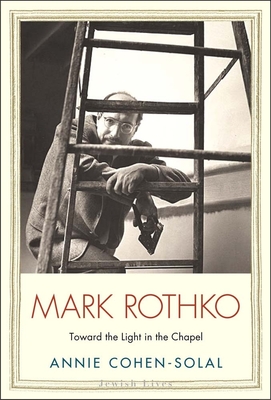 Mark Rothko (Hardcover)
Toward the Light in the Chapel (Jewish Lives)
Yale University Press, 9780300182040, 296pp.
Publication Date: March 10, 2015
Other Editions of This Title:
Paperback (3/22/2016)
* Individual store prices may vary.
Description
From the prizewinning Jewish Lives series, a fascinating exploration of the life and work of one of America's most famous and enigmatic postwar visual artists

Mark Rothko, one of the greatest painters of the twentieth century, was born in the Jewish Pale of Settlement in 1903. He immigrated to the United States at age ten, taking with him his Talmudic education and his memories of pogroms and persecutions in Russia. His integration into American society began with a series of painful experiences, especially as a student at Yale, where he felt marginalized for his origins and ultimately left the school. The decision to become an artist led him to a new phase in his life. Early in his career, Annie Cohen-Solal writes, "he became a major player in the social struggle of American artists, and his own metamorphosis benefited from the unique transformation of the U.S. art world during this time." Within a few decades, he had forged his definitive artistic signature, and most critics hailed him as a pioneer. The numerous museum shows that followed in major U.S. and European institutions ensured his celebrity. But this was not enough for Rothko, who continued to innovate. Ever faithful to his habit of confronting the establishment, he devoted the last decade of his life to cultivating his new conception of art as an experience, thanks to the commission of a radical project, the Rothko Chapel in Houston, Texas.

Cohen-Solal's fascinating biography, based on considerable archival research, tells the unlikely story of how a young immigrant from Dvinsk became a crucial transforming agent of the art world—one whose legacy prevails to this day.

About Jewish Lives:

Jewish Lives is a prizewinning series of interpretative biography designed to explore the many facets of Jewish identity. Individual volumes illuminate the imprint of Jewish figures upon literature, religion, philosophy, politics, cultural and economic life, and the arts and sciences. Subjects are paired with authors to elicit lively, deeply informed books that explore the range and depth of the Jewish experience from antiquity to the present.

In 2014, the Jewish Book Council named Jewish Lives the winner of its Jewish Book of the Year Award, the first series ever to receive this award.

More praise for Jewish Lives:

"Excellent." – New York times

"Exemplary." – Wall St. Journal

"Distinguished." – New Yorker

"Superb." – The Guardian
About the Author
Annie Cohen-Solal's books include Sartre: A Life (a best-seller translated into sixteen languages), Painting American (Académie des Beaux arts Prize), and Leo & His Circle: The Life of Leo Castelli (ArtCurial Prize).
Praise For Mark Rothko: Toward the Light in the Chapel (Jewish Lives)…
"Gripping . . . meticulous . . . this novelistic account is a rewarding close-up of Rothko's . . . experience as a Jewish immigrant."—Publishers Weekly, starred review
— Publishers Weekly
"Cohen-Solal's study of Mark Rothko is notable for her ability to link his strong Jewish ties to his changing, evolving art. Her access to newly available archives enables her comprehensive portrait of the man . . . A sure hit for fans of art history, and readers looking to understand modern art and especially abstraction will find this wonderfully enlightening."—Kirkus Reviews
— Kirkus Reviews
"Once again, Annie Cohen-Solal has done it. As with her book on Leo Castelli, she has managed to bring not only Mark Rothko, but his time, to life. This book is a grand blend of biography, cultural history, and art criticism. Rare is the scholar who can pull it off so masterfully."—David N. Myers, Professor of Jewish History, UCLA History Department
— David N. Myers
"[A] tightly focused, profoundly clarifying biography . . . A defining and affecting tribute to a modern master."—Booklist, starred review
— Booklist
'In this moving and readable biography, Cohen-Solal tells the story of Rothko's life through the prism of his Jewishness.'—Marcus Field, the Independent.

— Marcus Field
"It's unlikely that many of Rothko's admirers understand his art as he wanted it understood. . . . Annie Cohen-Solal . . . corrects our perceptions in Mark Rothko."—National Post
— National Post
"This compact study places Rothko's development within the context of the evolution of American art in the mid-twentieth century . . . Cohen-Solal subtly demonstrates the link between Rothko's three outsider statuses (artist, immigrant, and Jew), his color-block canvases, and his essential Americanness."—New Yorker
— New Yorker
"Illuminating . . . Impressively sourced . . . A sublime little volume."—Washington Times
— Washington Times
"An admirable attempt to construct a coherent framework around what is undeniably a complicated, not to say messy, life."—Washington Post
— Washington Post
"Engrossing."—Times Higher Education Supplement
— Times Higher Education Supplement
"Cohen-Solal's work is well-written and well-argued, and will be of interest to anyone concerned with Rothko, modern art, American intellectual history or the politics and processes of Jewish identity and assimilation."—Cleveland Plain Dealer
— Cleveland Plain Dealer
"Cohen-Solal has made an important contribution with a well-researched book about Rothko's life."—New Criterion
— New Criterion
or
Not Currently Available for Direct Purchase