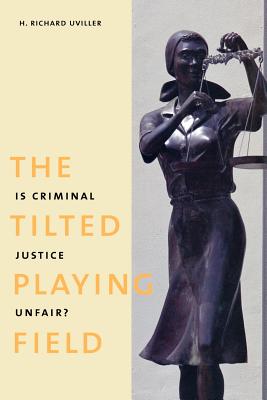 The Tilted Playing Field
Is Criminal Justice Unfair?
Paperback

* Individual store prices may vary.
Other Editions of This Title:
Hardcover (3/11/1999)
Description
Although evenly matched adversaries make for a more exciting athletic contest, and a level playing field is essential to a fair game, is the same true in a criminal trial? In this compelling new book, H. Richard Uviller argues that a criminal trial is not analogous to a sporting event. Prosecutors and defense attorneys are, in critical respects, different from each other, and the allocation of advantages to each must be uneven in order to be fair.

In a lively exploration of the powers of the prosecutor and the prerogatives of the defense, Uviller asks where our criminal justice system is fair though unequal and where its inequalities may subvert fair results. On the one hand, he points out, the prosecutor has unmatched and virtually unreviewable discretion to choose the target of a prosecution, the charge, and to a large extent the timing of an indictment. The prosecution also is first on the scene to develop evidence and is entitled to compel the production of evidence from reluctant custodians. The lawyer for the defendant, on the other hand, enjoys virtually unrestricted license to argue contrary to his or her own sincere belief, as well as broad powers to discover evidence from the prosecutor's file. Are these unequal advantages necessary? Are they fair? Uviller concludes that although the overall criminal justice system reflects a fair distribution of advantages and disadvantages, in certain areas the imbalance is so severe as to undermine justice. He offers realistic, carefully considered recommendations for reform in these problem areas.
Yale University Press, 9780300183023, 326pp.
Publication Date: March 11, 1999
About the Author
H. Richard Uviller is Arthur Levitt Professor of Law, Columbia University School of Law. During his 45-year career in law, he has served as an attorney, a prosecutor for fourteen years in the office of the legendary Frank S. Hogan, and a criminal justice teacher.