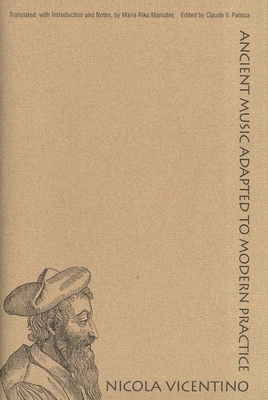 Ancient Music Adapted to Modern Practice (Music Theory Translation Series) (Paperback)
Yale University Press, 9780300184167, 560pp.
Publication Date: November 30, 2011
Other Editions of This Title:
Hardcover (11/27/1996)
* Individual store prices may vary.
Description
First published in Rome in 1555, Nicola Vicentino's treatise was one of the most influential music theory texts of the sixteenth century. This translation by Maria Rika Maniates is the first English-language edition of Vicentino's important work.

Unlike most early theorists, Vicentino did not simply summarize the practice of his time. His aim was to change how composers wrote and how musicians thought about music.

His best-known contribution is the adaptation of the ancient Greek chromatic and enharmonic genera to modern polyphonic practice. But he also expressed the avant garde's position on the relation between music and the subject matter and feelings of a secular or sacred text. He challenged the view that part-writing had always to conform to the rules of counterpoint, asserting that license was permissible in order to express the feelings of a verbal text. In this he anticipated the manifestos of Vincenzo Galilei and Claudio Monteverdi. Maniates' introduction discusses Vicentino's life and work, the sources of his ideas in earlier theoretical literature, and the contemporary humanists from whom he may have learned..

About the Author
Maria Rika Maniates is professor emerita of music at the University of Toronto. Claude V. Palisca is Henry L. and Lucy G. Moses Professor Emeritus of Music at Yale University