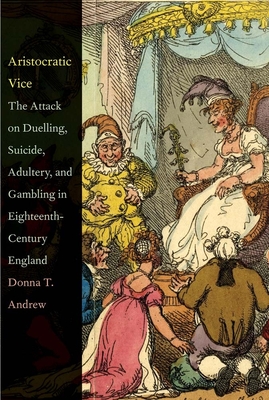 Aristocratic Vice (Hardcover)
The Attack on Duelling, Suicide, Adultery, and Gambling in Eighteenth-Century England
Yale University Press, 9780300184334, 328pp.
Publication Date: June 18, 2013
* Individual store prices may vary.
Description
Aristocratic Vice examines the outrage against—and attempts to end—the four vices associated with the aristocracy in eighteenth-century England: duelling, suicide, adultery, and gambling. Each of the four, it was commonly believed, owed its origin to pride. Many felt the law did not go far enough to punish those perpetrators who were members of the elite. In this exciting new book, Andrew explores each vice's treatment by the press at the time and shows how a century of public attacks on aristocratic vices promoted a sense of "class superiority" among the soon-to-emerge British middle class.

"Donna Andrew continues to illuminate the mental landscapes of eighteenth-century Britain. . . . No historian of the period has made greater or more effective use of the newspaper press as a source for cultural history than she. This book is evidently the product of a great deal of work and is likely to stimulate further work."—Joanna Innes, University of Oxford
About the Author
Donna T. Andrew is professor emerita of history at the University of Guelph in Ontario, Canada. She lives in Toronto.
Praise For Aristocratic Vice: The Attack on Duelling, Suicide, Adultery, and Gambling in Eighteenth-Century England…
"Donna Andrew's splendid exploration of the cultural skirmishes over aristocratic vice makes a vital contribution to our understanding of the middling presence and the public sphere in the long eighteenth century."—Nicholas Rogers, York University
— Nick Rogers
"Donna Andrew continues to illuminate the mental landscapes of eighteenth-century Britain. No historian of the period has made greater or more effective use of the newspaper press as a source for cultural history than she. This book is evidently the product of a great deal of work and is likely to stimulate further work."—Joanna Innes, University of Oxford
— Joanna Innes
"I know of no other book or academic article that juxtaposes these four vices and does so through extensive use of the newspaper press, which has until recently been under-explored. Andrew has demonstrated an impressive knowledge of the contents of 18th-century newspapers and she brings great familiarity with non-canonical sources around morality (notably sermons and pamphlet literature)."—Sarah Lloyd, University of Hertfordshire
— Sarah Lloyd, University of Hertfordshire
or
Not Currently Available for Direct Purchase