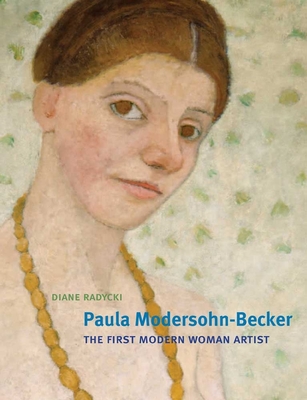 Paula Modersohn-Becker
The First Modern Woman Artist
Hardcover

* Individual store prices may vary.
Description
A major new look at the life and career of a pioneering woman artist

Considered one of the most important of the early German modernists, the painter Paula Modersohn-Becker (1876–1907) challenged traditional representations of the female body in art. She was the first modern woman artist to paint herself nude, as well as mothers and children nude. She also created the first self-portrait while pregnant in the history of art. Modersohn-Becker painted the life she was living as a woman and artist and led the way for generations of women artists. Tragically, her life and career were cut short at age thirty-one, following complications from childbirth.
Diane Radycki examines the artist's fascinating biography, highlighting her friendships with poet Rainer Maria Rilke and sculptor Clara Rilke-Westhoff as well as her personal anguish, including years in an unconsummated marriage, a disappointing affair, and irresolution about motherhood. Radycki also details the genres of Modersohn-Becker's work: figure (especially nudes), still life, and landscape; and the reception of her work following her death. This new book is an authoritative source on Modersohn-Becker, who Radycki convincingly portrays as the first significant woman artist in the history of modernism.
Praise For Paula Modersohn-Becker: The First Modern Woman Artist…
"Masterful. Diane Radycki provides a persuasive and revelatory argument for the title of her book pronouncing Paula Modersohn-Becker as "The First Modern Woman Artist." There is no book I know of that has as keen a cutting edge into the artist's motivations while at the same time placing her convincingly as an important early 20th-century "modern" woman artist. Her short life and growing posthumous fame are brilliantly juxtaposed."--Alessandra Comini

— Alessandra Comini

"Diane Radycki's Paula Modersohn-Becker … brings Modersohn-Becker more fully to life, adding a darker tone to the relentlessly cheerful letters she sent home to worried parents. And the paintings and sketches are all beautifully reproduced, introducing us all to this important and beautiful painter." —Bookslut
— Bookslut

"This book elegantly reveals its subject's life and work; recommended for anyone interested in German Expressionism and women artists."—Library Journal, starred review

— Library Journal

"Radycki's text is an incisive document that will speak to a range of audiences: art historians, feminists, artists, and those looking to the narrative of a creative woman—to help contemplate and forge their own future paths."–Huffington Post
— Huffington Post

"Radycki makes a convincing case for seeing Paula Modersohn-Becker as the first modern woman artist. . . . Readers of this monograph therefore should be anyone interested in modern art, women artists, the profoundly new art of Modersohn-Becker, and the heady ferment of the times in which she lived and worked. . . ."–Art New England
— Art New England

"The most complete biography available in English. . . . Radycki presents a robust art-historical case that her story is 'the missing piece in the history of twentieth-century modernism.'"–Open Letters Monthly
— Open Letters Monthly
Yale University Press, 9780300185300, 256pp.
Publication Date: April 30, 2013
About the Author
Diane Radycki is associate professor of art history at Moravian College, Bethlehem, Pennsylvania. She served as editor and translator of The Letters and Journals of Paula Modersohn-Becker.
or
Not Currently Available for Direct Purchase