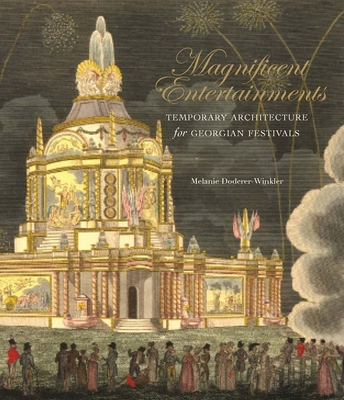 Magnificent Entertainments
Temporary Architecture for Georgian Festivals
Hardcover

* Individual store prices may vary.
Description
A thoroughly original study of ephemeral architecture and design, Magnificent Entertainments examines the spectacular displays created for large-scale public and private celebrations in the Georgian period. The book focuses on a number of specific occasions - including elegant country fêtes, lavish galas, royal events and historical commemorations - that employed elaborate decorative measures to outshine all other attractions and diversions. It explores the role of leading architects Robert Adam and William Chambers as well as members of the Royal Academy of Arts in creating exceptional party settings for royalty and aristocracy, and adapting well-known public venues for one-night extravaganzas.
The author delves into the materials used for construction and embellishment throughout the period: artful applications of dyed sugar, sand, marble dust or chalk lent lustre and colour to tables and floors, whilst painted scenery and transparencies created from thousands of variegated lamps transformed existing venues into unfamiliar marvels. Spectacular stand-alone firework temples and temporary reception rooms were often crafted of little more than wood, canvas and paint.
Drawing on primary sources including personal letters, diary entries, bills and newspaper accounts, this book investigates how successful these fanciful designs were in creating fleeting moments of delight with lasting impact and popular appeal.
Praise For Magnificent Entertainments: Temporary Architecture for Georgian Festivals…
'[This] impressive doctoral thesis turned fascinating narrative shows us how many different forms the human desire to celebrate took in the eighteenth century – and how irresistible conspicuous consumption has always been. Melanie Doderer-Winkler's exhaustively detailed tome documents the myriad skills of hundreds of designers, artists, craftsmen and labourers at the service of the rich and the high born for parties, ceremonies, parades, pageants and processions – the secular rituals that bind these excessive communities.'—Marina Vaizey,
V&A Magazine
— Marina Vaizey
'Magnificent Entertainments is the first book dedicated to this interesting subject and it is meticulously researched and illustrated with hundreds of rare, contemporary views depicting long-vanished triumphs.'—Tim Knox, Country Life
— Tim Knox
"Clear the decks for Melanie Doderer-Winkler's sumptuous
Magnificent Entertainments
, an immaculately researched, written and illustrated blockbuster in the temporary pavilions, ballrooms, feasts and fantasties that Georgian foppery so delighted in."—Nicky Haslam,
The Spectator
— Nicky Haslam
'Doderer-Winkler's great achievement as an archaeologist of the ephemeral is to bring such events to vivid life from the claims of prints and press releases, eyewitness accounts – and, critically, the bill.'—Christopher Woodward, World of Interiors Magazine
— Christopher Woodward
Paul Mellon Centre, 9780300186420, 270pp.
Publication Date: December 10, 2013
About the Author
Melanie Doderer-Winkler is an art historian and former furniture specialist at Christie's, London. She writes and lectures about the splendour and pageantry of eighteenth-century entertaining.
or
Not Currently Available for Direct Purchase