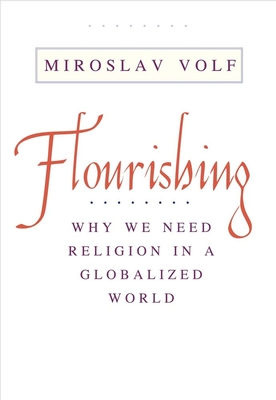 Flourishing (Hardcover)
Why We Need Religion in a Globalized World
Yale University Press, 9780300186536, 304pp.
Publication Date: January 12, 2016
Other Editions of This Title:
Paperback (3/28/2017)
Compact Disc (1/21/2016)
MP3 CD (1/21/2016)
* Individual store prices may vary.
Description
A celebrated theologian explores how the greatest dangers to humanity, as well as the greatest promises for human flourishing, are at the intersection of religion and globalization

More than almost anything else, globalization and the great world religions are shaping our lives, affecting everything from the public policies of political leaders and the economic decisions of industry bosses and employees, to university curricula, all the way to the inner longings of our hearts. Integral to both globalization and religions are compelling, overlapping, and sometimes competing visions of what it means to live well.
 
In this perceptive, deeply personal, and beautifully written book, a leading theologian sheds light on how religions and globalization have historically interacted and argues for what their relationship ought to be. Recounting how these twinned forces have intersected in his own life, he shows how world religions, despite their malfunctions, remain one of our most potent sources of moral motivation and contain within them profoundly evocative accounts of human flourishing. Globalization should be judged by how well it serves us for living out our authentic humanity as envisioned within these traditions. Through renewal and reform, religions might, in turn, shape globalization so that can be about more than bread alone.
About the Author
Miroslav Volf is the Henry B. Wright Professor of Theology at Yale University and the author of several books, including Exclusion and Embrace, winner of the Louisville Grawemeyer Award in Religion.
Praise For Flourishing: Why We Need Religion in a Globalized World…
"Volf brilliantly weaves several strands of argument into an ambitious brief for the positive functions of religion in today's global village, where the negative consequences of religion are too often written in the blood of innocents."—Publishers Weekly (starred review)
"Make no mistake: everyone who cares about either the church or the world should read this book."—Greg Forster, Gospel Coalition
"This is a powerful book. It offers a strong critique of attempts to merge religion and politics, even as it affirms the need for public engagement in pursuit of flourishing of the entire creation. Take and read. It's that important! In this book a path toward peace is revealed."—Robert D. Cornwall, Englewood Review of Books
"Insightful, far-ranging, and timely . . . deserves to be widely read."—Don Schweitzer, Ecumenist
"Volf's latest contribution makes an impact on the ways in which we can appreciate world religions in a globalized world. The text itself seems to pave a path for human flourishing."—Jane M. Curry, Reading Religion
"[Volf] provides a clear, persuasive, and balanced appraisal of the contribution that religions can make to the common good. It ought to be read by anyone interested in religion, human well-being, and peace."—Stephen J. Pope, Theological Studies
"Volf convincingly tackles one of the most important issues of the twenty-first century: how we can have a peaceful religious pluralism together with healthy globalisation. He not only gives the facts and analyses the situation perceptively, he also has the depth of understanding of a range of religions to produce a practical way forward that is both realistic and attractive."—David F. Ford, University of Cambridge
"Miroslav Volf's prophetic voice brings a new perspective to the question of what it means to live the good life in a world shaped by globalization."—John J. DeGioia, Georgetown University
"In Flourishing, Miroslav Volf offers us an enthralling analysis of the mutual interplay between globalization and the world's great religions, along with an inspiring vision of how great faiths can be enlarged rather than threatened by diversity. An outstanding and timely work by one of the great theologians of our time."—Rabbi Lord Jonathan Sacks
"The contemporary globalized world offers a bewildering scene: horrifying acts of religious hatred and cruelty exist alongside zones where people of different religions live in unprecedented mutual respect, even friendly exchange. Digging deep into the sources of his own, Christian faith, Volf offers an insightful and penetrating answer to both these questions."—Charles Taylor, McGill University
or
Not Currently Available for Direct Purchase