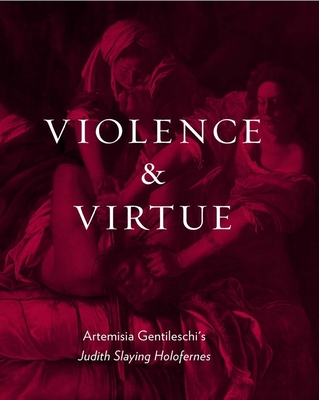 Violence and Virtue (Paperback)
Artemisia Gentileschi's "Judith Slaying Holofernes"
Art Institute of Chicago, 9780300186796, 40pp.
Publication Date: November 12, 2013
* Individual store prices may vary.
Description
Artemisia Gentileschi's uniquely powerful painting Judith Slaying Holofernes is a quintessential example of early Baroque art. In addition, this work, more than any other picture in her oeuvre, has come to define Gentileschi as an early modern woman and a superb Baroque painter, the first woman accepted into the renowned Accademia delle Arti del Disegno in Florence.

In Violence and Virtue, Eve Straussman-Pflanzer explores the circumstances surrounding the creation of this extraordinary painting in Florence around 1620, and she examines the meanings conveyed by the image itself. Among other topics of investigation, the author addresses the role of women artists and patrons in the Florentine court of the early 17th century. She also considers the depiction of and fascination with violence during the Baroque era. A comparative analysis between Gentileschi's masterpiece and other paintings by artists such as Michelangelo Merisi da Caravaggio, Sandro Botticelli, Cristofano Allori, and Felice Ficherelli, among others, testifies to the importance of Gentileschi's portrayal of the biblical heroine Judith.
About the Author
Eve Straussman-Pflanzer is the Assistant Director of Curatorial Affairs/Senior Curator of Collections at the Davis Museum at Wellesley College, Wellesley, Massachusetts
or
Not Currently Available for Direct Purchase