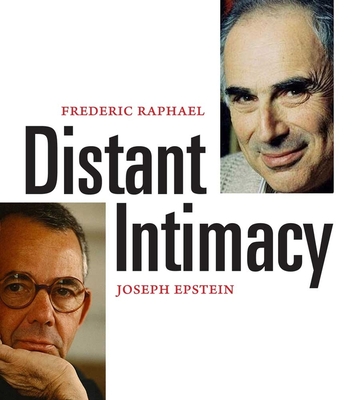 Distant Intimacy
A Friendship in the Age of the Internet
Hardcover

* Individual store prices may vary.
Description

This delightful book of writer-to-writer correspondence joins a full shelf of volumes in the genre, yet it is perhaps the first set of such letters ever transacted via the Internet. Also unusual, at least for correspondents in the twenty-first century, is that Frederic Raphael and Joseph Epstein have never met, nor even spoken to each other. But what is most rare about this book is the authors' abundant talent for entertaining their readers, as much when the topic is grave as when it is droll.

Raphael and Epstein agree to embark on a year-long correspondence, but other rules are few. As the weeks progress, their friendship grows, and each inspires the other. Almost any topic, large or small, is considered: they write of schooling, parents, wives, children, literary tastes, enmities, delights, and beliefs. They discuss their professional lives as writers, their skills or want of them, respective experiences with editors, producers, and actors, and, in priceless passages scattered throughout the letters, they assess such celebrated figures as Gore Vidal, Christopher Hitchens, Susan Sontag, Annie Leibowitz, Malcolm Gladwell, Harold Bloom, George Steiner, Harold Pinter, Isaiah Berlin, George Weidenfeld, and Robert Gottlieb, among many others. Epstein and Raphael capture a year in their letters, but more, they invite us into an intimate world where literature, cinema, and art are keys to self-discovery and friendship.
Praise For Distant Intimacy: A Friendship in the Age of the Internet…
"A 'friendship electronique' at its best in delving into matters closest to heart: anti-Semitism in literature, the decline of good critics and the novel, wise commiserations on the state of the publishing industry, and reflections on long, successful careers." 
–
Publishers Weekly
— Publishers Weekly
"Raphael and Epstein may not prove that the art of correspondence as we know it will survive into the digital age, but they do prove that two writers who are insightful and witty in print can be equally insightful and witty online. A cause for hope, then." Matthew Walther,
The Daily Beast
— Matthew Walther
"Distant Intimacy 'crackles like a forest fire . . . . There is a terrific and welcome sense of clever men writing against the grain of their time. 'Boats against the current are the only kind I should choose to embark on,' Raphael advises his accomplice; 'the going's tough, but your fellow passengers are better company than you will ever find going with the flow.'"—D. J. Taylor,
Wall Street Journal
— D.J. Taylor
"Joseph Epstein is America's finest essayist and amongst America's finest short story writers. Frederic Raphael is English, a prodigiously gifted man of letters in the fullest sense. . . . Both write like angels with boundless wit, exquisitely honed intelligence, and stiletto cattiness about their fellow writers, living and dead."—Barbara Kay,
National Post
— Barbara Kay

"Distant Intimacy is often wickedly entertaining, presenting as it does the rare spectacle of two clever and learned veterans of the literary wars letting it all hang out."—Ben Downing, New Criterion
— Ben Downing
Yale University Press, 9780300186949, 352pp.
Publication Date: May 7, 2013
About the Author

Frederic Raphael has written twenty-two novels, including The Glittering Prizes, made into a BBC television series, and several works of nonfiction. He is also an Oscar-winning screenwriter. He divides his time between London and the Perigord. Joseph Epstein is the author of more than twenty books, including Fred Astaire, published by Yale University Press, and most recently Gossip: The Untrivial Pursuit. He lives in Chicago.
or
Not Currently Available for Direct Purchase