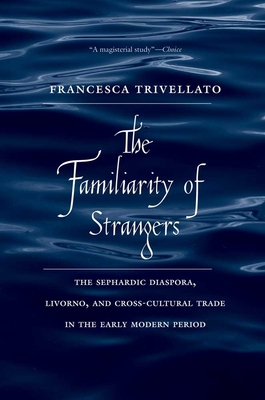 The Familiarity of Strangers
The Sephardic Diaspora, Livorno, and Cross-Cultural Trade in the Early Modern Period
Paperback

* Individual store prices may vary.
Description
Taking a new approach to the study of cross-cultural trade, this book blends archival research with historical narrative and economic analysis to understand how the Sephardic Jews of Livorno, Tuscany, traded in regions near and far in the seventeenth and eighteenth centuries. Francesca Trivellato tests assumptions about ethnic and religious trading diasporas and networks of exchange and trust. Her extensive research in international archives—including a vast cache of merchants' letters written between 1704 and 1746—reveals a more nuanced view of the business relations between Jews and non-Jews across the Mediterranean, Atlantic Europe, and the Indian Ocean than ever before.
The book argues that cross-cultural trade was predicated on and generated familiarity among strangers, but could coexist easily with religious prejudice. It analyzes instances in which business cooperation among coreligionists and between strangers relied on language, customary norms, and social networks more than the progressive rise of state and legal institutions.
Praise For The Familiarity of Strangers: The Sephardic Diaspora, Livorno, and Cross-Cultural Trade in the Early Modern Period…
"Trivellato has accomplished something special—a brilliant description of a family, of a nation, of a period of history, of an economy and of a culture. . . This is one of the best and most original books on Jewish history published this year."—Seth J. Frantzman,
The Jerusalem Post
— Seth J. Frantzman
"A magisterial study."—Choice
— Choice

"This is a signal book, a model to be emulated, a tour de force in modern historiographical skill, one of the best I have ever read."—American Historical Review
— American Historical Review

Selected for the long list for the 2010 Cundill Prize in History given by McGill University
— Cundill International Prize in History

Co-winner of the 2010 Jordan Schnitzer Book Award for the best book in Early Modern and Modern Jewish History published in English between 2006 and 2010, awarded by the Association of Jewish Studies.
— Jordan Schnitzer Book Award

Winner of the 2010 Leo Gershoy Award for the most outstanding work published in English on any aspect of seventeenth- and eighteenth-century European history, awarded by the American Historical Association
— Leo Gershoy Award


"One could not find a better example of the marriage between theory and practice, secondary and primary literature."—John A. Marino, University of California, San Diego
— John A. Marino
"This book is certainly important, the kind that appears once every few years, if that. It is the best book on cross-cultural trade since Philip Curtin invented the field more than two decades ago."—Steven Epstein, University of Kansas
— Steven Epstein
"The Familiarity of Strangers offers ground-breaking perspectives on social networks and the market, the culture of trust, the history of Sephardic Jews, and the global reach of early modern commerce. It successfully challenges our stereotypes about capitalism, rational choice, cosmopolitanism, and the role of kin in commercial life. With access to archives in numerous countries, it offers an exciting and new approach to the interaction of culture and economic life."—Margaret C. Jacob, University of California, Los Angeles
 
— Margaret C. Jacob

"Trivellato's stunningly well-researched and theoretically sophisticated study of Sephardic merchants in the free-port of Livorno reveals how they made deals not just with other Jews but all varieties of Christians across Europe and even Hindus in India. How was it possible to bridge these formidable religious and ethnic barriers? She offers 'communitarian cosmopolitanism' as a new and promising model for understanding cross-cultural economic ties. This book will be a benchmark for future work in the social history of early modern business."—Edward Muir, author of The Culture Wars of the Late Renaissance: Skeptics, Libertines, and Opera
— Edward Muir
"This is a superb and sophisticated book on the Sephardi merchants of Livorno in the early modern period. An example of global history writing at its best, it illuminates deftly and with great nuance the complexities of diasporic networks and cross-cultural trade."—Aron Rodrigue, Stanford University
— Aron Rodrigue
"One of the most important books that have been published on early modern Jewish history."—HNet Reviews
— HNet Reviews


"A well-written and well-constructed study that utilizes an intriguing body of sources."—H-Judaic

— H-Judaic

"The Familiarity of Strangers is among the rare books so erudite and elegant that even its 'Notes on Terminology abd Units of Measure' fascinates and edities. . . . Trivellato reveals herself to be a careful and exapansive thinker. . . . The Familiarity of Strangers offers a welcome challenge and contribution to the various fields with which the author is engaged."—Sarah Abrevaya Stein, Association of Jewish Studies Review
— Sarah Abrevaya Stein

"…a most important and original description of the economic and social history of this major Jewish community."—Edgar Samuel, Jewish Historical Studies Vol. 43
— Edgar Samuel

". . . fine-grained analysis . . . [Readers] will find her analysis of cross-cultural relations a particularly valuable revision of the now much questioned convivenza model. . . . a richly analytical and comparative study with broad implications for understanding the Mediterranean and the world economy in the early modern period."—Laurie Nussdorfer, The Sixteenth Century Journal
— Laurie Nussdorfer
Yale University Press, 9780300187496, 496pp.
Publication Date: September 25, 2012
About the Author
Francesca Trivellato is Frederick W. Hilles Professor of History at Yale University.
or
Not Currently Available for Direct Purchase