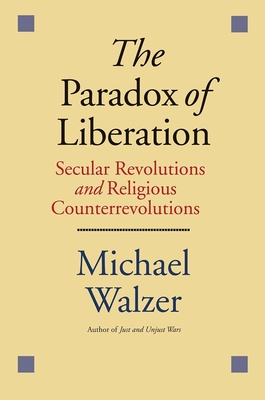 The Paradox of Liberation
Secular Revolutions and Religious Counterrevolutions
Hardcover

* Individual store prices may vary.
Other Editions of This Title:
Paperback (10/25/2016)
Description
A thought-provoking reflection on why secular national liberation movements are so often challenged by militant religious revivals

Many of the successful campaigns for national liberation in the years following World War II were initially based on democratic and secular ideals. Once established, however, the newly independent nations had to deal with entirely unexpected religious fierceness. Michael Walzer, one of America's foremost political thinkers, examines this perplexing trend by studying India, Israel, and Algeria, three nations whose founding principles and institutions have been sharply attacked by three completely different groups of religious revivalists: Hindu militants, ultra-Orthodox Jews and messianic Zionists, and Islamic radicals. In his provocative, well-reasoned discussion, Walzer asks, Why have these secular democratic movements been unable to reproduce their political culture beyond one or two generations? In a postscript, he compares the difficulties of contemporary secularism to the successful establishment of secular politics in the early American republic—thereby making an argument for American exceptionalism but gravely noting that we may be less exceptional today.
Praise For The Paradox of Liberation: Secular Revolutions and Religious Counterrevolutions…
"Nationalism remains the most potent ideological force in modern politics. This study of the fate of nationalism in Israel, India, and Algeria shows how easily plans for liberation have flip-flopped into their opposite. At a time when our politics continually vacillates between boredom and frivolity, Michael Walzer has reminded us of what it truly important."—Steven B. Smith, Alfred Cowles Professor of Political Science, Yale University
— Steven Smith

"In this remarkably innovative book Michael Walzer advances the bold thesis that national liberation movements, drunk on secular ambitions, ignored traditional religious and ethnic commitments at great cost. Decades after the liberation struggles were won, those powerful forces have come back to haunt them. This is Walzer at his incisive best."—Ian Shapiro, author of The Real World of Democratic Theory
— Ian Shapiro

"With rare gifts of moral sensibility, eloquence, and humility, Michael Walzer turns three haunting stories of historical loss into stories of paradox and hope. This book is a brilliant call for commitment to the reproduction of secular democracy, and Walzer points a way forward."—Nancy L. Rosenblum, author of On the Side of the Angels: An Appreciation of Parties and Partisanship
 
— Nancy L. Rosenblum

"Walzer traces, with admirable lucidity, the social and cultural reasons that liberation movements in Algeria, India, and Israel ended up betraying the secular democratic hopes that they originally inspired. His rich, insightful account makes it clear why he is often acclaimed as America's leading political thinker."—Richard Wolin, author of The Wind from the East: French Intellectuals, the Cultural Revolution, and the Legacy of the 1960s
— Richard Wolin

"Michael Walzer is a titan among political philosophers, and The Paradox of Liberation is one of his greatest books—incisive, original, humane, bold, nuanced, timely, and relentlessly and beautifully lucid."—Paul Berman, author of Terror and Liberalism and Flight of the Intellectuals
— Paul Berman

"Why do secular liberation movements so often give rise to quasi-religious reactionary movements, and is there any way in which this problematic dynamic might be avoided? Discussing Israel, India, Algeria, and the United States, Michael Walzer, America's leading political theorist, tackles this urgent question with clarity and deep insight."—Martha C. Nussbaum, The University of Chicago
— Martha C. Nussbaum

"As vital, productive, and intellectually alive as ever . . . [with] The Paradox of Liberation, Walzer has made a major contribution."—Michael Ignatieff, New York Review of Books
— Michael Ignatieff

"Fascinating . . . Walzer can rightly be called America's greatest living political philosopher . . . A cause for celebration."—Alan Wolfe, Chronicle of Higher Education
— Alan Wolfe

"One of the many virtues of Walzer's subtlety is that he helps us understand that, while the ideologies of today's fundamentalists and ultra-orthodox are rooted in ancient or medieval ideas, these movements are, in a peculiar way, thoroughly modern."—E.J. Dionne, Washington Post
— E.J. Dionne

"[A] searching meditation on the trajectory of nationalism and politics"—G. John Ikenberry, Foreign Affairs
— G. John Ikenberry

"The book has much to recommend it, including Walzer's crystal-clear prose and breadth of view . . . Compelling."—Suzanne Schneider, Marginalia
— Suzanne Schneider

"There are lessons and questions in this moving and lucid book that demand serious thought far beyond the three countries that are its subject."—Lucy Beckett, Times Literary Supplement
— Lucy Beckett

"Walzer's argument is of immense interest and importance . . . [a] rich book."—Walter Brueggemann, Christian Century
— Walter Brueggemann

"Manifestly important. . . . Elegant and lucid.  The issues [are] of wide significance and addressed with precision . . . and admirable clarity."—Allan Silver, Columbia University
— Allan Silver
Yale University Press, 9780300187809, 192pp.
Publication Date: March 24, 2015
About the Author
Eminent political theorist Michael Walzer, an emeritus professor at the Institute for Advanced Study, served as coeditor of the political journal Dissent for more than three decades.
or
Not Currently Available for Direct Purchase