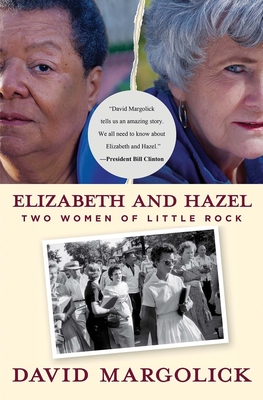 Elizabeth and Hazel (Paperback)
Two Women of Little Rock
Yale University Press, 9780300187922, 320pp.
Publication Date: September 4, 2012
Other Editions of This Title:
Digital Audiobook (10/9/2011)
Compact Disc (10/10/2011)
MP3 CD (10/10/2011)
Pre-Recorded Audio Player (12/1/2011)
Compact Disc (10/10/2011)
Hardcover, Large Print (12/1/2011)
* Individual store prices may vary.
Description
Who were the two fifteen-year-old girls from Little Rock—one black, one white—in one of the most unforgettable photographs of the civil rights era? From what worlds did they come? What happened to them? How did the picture affect their lives?

The names Elizabeth Eckford and Hazel Bryan Massery may not be well known, but the image of them from September 1957 surely is: a black high school girl, dressed in white, walking stoically in front of Little Rock Central High School, and a white girl standing directly behind her, face twisted in hate, screaming racial epithets. This famous photograph captures the full anguish of desegregation—in Little Rock and throughout the South—and an epic moment in the civil rights movement.
In this gripping book, David Margolick tells the remarkable story of two separate lives unexpectedly braided together. He explores how the haunting picture of Elizabeth and Hazel came to be taken, its significance in the wider world, and why, for the next half-century, neither woman has ever escaped from its long shadow. He recounts Elizabeth's struggle to overcome the trauma of her hate-filled school experience, and Hazel's long efforts to atone for a fateful, horrible mistake. The book follows the painful journey of the two as they progress from apology to forgiveness to reconciliation and, amazingly, to friendship. This friendship foundered, then collapsed—perhaps inevitably—over the same fissures and misunderstandings that continue to permeate American race relations more than half a century after the unforgettable photograph at Little Rock. And yet, as Margolick explains, a bond between Elizabeth and Hazel, silent but complex, endures.
About the Author
David Margolick is a contributing editor at Vanity Fair and a frequent contributor to the New York Times Book Review.
Praise For Elizabeth and Hazel: Two Women of Little Rock…
"[Margolick] tells a story that is almost novelistic in its complexity. . . . Someday Elizabeth and Hazel will be a textbook. Long before, on the civil rights bookshelf, it will be considered a classic."—Jesse Kornbluth, Headbutler.com, Huffington Post
"The remarkable story of a historic civil-rights photograph and the intertwined lives of its subjects."—The Daily Beast
"A patient and evenhanded account. . . . Margolick proposes no fairytale solutions. . . . To his credit, he spares us none of the unruly facts as his subjects, still wrestling with history, wander off message."—New York Times Book Review
"Surprising, disturbing, occasionally inspiring, often baffling, and ultimately sad. . . . Elizabeth and Hazel represents, in microcosm, the debilitating power of race that remains powerful 50 years after that photo. . . . An amazing story, told with brio."—Boston Globe
"Utterly engrossing, for it touches on a variety of thorny, provocative themes: the power of race, the nature of friendship, the role of personality, the capacity for brutality and for forgiveness."—Publishers Weekly
"There are volumes of scholarly works on the Civil Rights Movement, but this book is different. By tracing the two women's journeys, . . . often in their own words, Margolick artfully lays bare [their] emotional and mental wounds and struggles, [and] also places the women in the context of the wider civil rights era and beyond. . . . This work is simply a must-read."—Library Journal, starred review
"A very nuanced analysis of how Elizabeth and Hazel were affected by the scene that made them famous . . . A complex look at two women at the center of a historic moment."—Booklist, starred review
"Margolick's unforgettable new book, Elizabeth and Hazel: Two Women of Little Rock, takes as its touchstone a famous civil rights-era photograph. . . . eloquently chronicl[ing] their lives since that iconic photo was taken."—Kate Tuttle, TheAtlantic.com
"Riveting reportage of an injustice that still resonates with sociological significance."—Kirkus Reviews
"A marvelous example of bringing history to life through individual stories, . . . [and] a fascinating story of race, relationships, and the struggle to forgive."—Marjorie Kehe, Christian Science Monitor, "Fall Books: 20 Nonfiction Titles You Don't Want to Miss"
"An amazingly intimate portrait. . . . The lesson of Elizabeth and Hazel may be that we shouldn't define other people's lives by one single moment. Instead, we can use their actions to define other lives—our own."—Christian Science Monitor
"It is a story, beautifully told, of heroism – and, alas, it also an achingly painful account of the obstacles that stand in the way of racial reconciliation."—Glenn Altschuler, Florida Courier
"Powerful and extraordinary. . . . Armed with a perceptive eye and a sensitive heart, Margolick brilliantly tells the story of Elizabeth and Hazel. He chronicles a key moment in American history and its complex aftermath, inserting readers into an intensely personal story of two women caught in history's web."—Randy Dotinga, Christian Science Monitor
"Engrossing . . . Elizabeth and Hazel serves to explode the simplifications of The Help and exposes the limits of apology and forgiveness. There is nothing about which to feel upbeat, no easy moral, no simple narrative. The story is a corrective to our collective fantasy that we can rectify the past."—Louis P. Masur, The Chronicle Review
"In his engrossing new book Elizabeth and Hazel, David Margolick expands the frame to consider the difficult lives of its two central figures, their attempt at reconciliation, and the fact that they don't speak now. . . . Elizabeth and Hazel raises the specter that some damage doesn't heal. It is a notion profoundly unsettling to the story we Americans tell about ourselves."—Karen R. Long, Cleveland Plain-Dealer
Christian Science Monitor, A Top 10 Nonfiction Book for 2011
"David Margolick's dual biography of an iconic photograph is a narrative tour de force that leaves us to grapple with a disturbing perennial—that forgiveness doesn't always follow from understanding. I read Elizabeth and Hazel straight through in one sitting."—David Levering Lewis, Pulitzer Prize–winning author of W. E. B. Du Bois
"The iconic photograph of Hazel Bryan and Elizabeth Eckford has now riveted us for more than fifty years. David Margolick's effort to bring the photo to life is equally riveting. It makes for a deeply compelling story of race and our ongoing efforts at understanding."—Julian Bond, Chairman Emeritus, NAACP
"Elizabeth and Hazel is a story that has been crying out to be told ever since two teenaged girls stumbled into history on a street in Little Rock, more than a half-century ago. Once again, Margolick, one of our best reporters, reveals his remarkable gift for uncovering intimate disputes that illuminate an epoch."—Diane McWhorter, Pulitzer Prize–winning author of Carry Me Home: Birmingham, Alabama; The Climactic Battle of the Civil Rights Revolution
"The story of Elizabeth Eckford, the heroic poster child of the struggle to desegregate Little Rock's Central High, which so many have forgotten, and her tormentor, Hazel Bryan, which so few ever knew, needed to be told. David Margolick has done so masterfully, in a narrative so gripping that one has difficulty putting down his book before arriving at the last page. His Elizabeth and Hazel is required reading for every American who wants to understand why the wounds inflicted by the heritage of slavery and Jim Crow remain unhealed."—Louis Begley, author of Why the Dreyfus Affair Matters
"As surprising and unusual as its two protagonists, Elizabeth and Hazel—densely-researched, empathetic, measured, revelatory—not only lets us live, as completely as we would in a novel, the confrontation in Little Rock and the creation of an iconic photo, but lets us hear the central figures as they work, for the subsequent half-century, to come to terms with what has happened to them. David Margolick has written a beautiful and moving meditation on race, struggle, and the forgiving and unforgiving passage of time."—Rachel Cohen, author of A Chance Meeting



"Margolick's unforgettable new book, Elizabeth and Hazel: Two Women of Little Rock, takes as its touchstone a famous civil rights-era photograph. . . . eloquently chronicl[ing] their lives since that iconic photo was taken."—Kate Tuttle, TheAtlantic.com
— Kate Tuttle
"A patient and evenhanded account of their messy relationship over the decades. . . . Margolick proposes no fairy-tale resolutions to such moral impasses. To his credit, he spares us none of the unruly facts as his subjects, still wrestling with history, wander off message."—Amy Finnerty, The New York Times Book Review
— Amy Finnerty
"The iconic image of Elizabeth and Hazel at age fifteen showed us the terrible burden that nine young Americans had to shoulder to claim our nation's promise of equal opportunity. The pain it caused was deeply personal. David Margolick now tells us the amazing story of how Elizabeth and Hazel, as adults, struggled to find each other across the racial divide and in so doing, end their pain and find a measure of peace. We all need to know about Elizabeth and Hazel."—President Bill Clinton
— President Bill Clinton
"As David Margolick's brilliantly layered exposition reveals, plumbing 'the depths of the depths' of race and racism is a most complex exercise. And as I plumbed the depths of his narrative, I found it at once painful, as well as elevating, and unlike anything I've ever read on the subject. It should be required reading for a nation still struggling with what Margolick refers to as 'the thicket of race.'"—Charlayne Hunter-Gault, author of In My Place
— Charlayne Hunter-Gault
"Surprising, disturbing, occasionally inspiring, often baffling, and ultimately sad. . . . Elizabeth and Hazel represents, in microcosm, the debilitating power of race that remains powerful 50 years after that photo. . . . An amazing story, told with brio."—Boston Globe
— Boston Globe
"An amazingly intimate portrait. . . . The lesson of Elizabeth and Hazel may be that we shouldn't define other people's lives by one single moment. Instead, we can use their actions to define other lives—our own."—Christian Science Monitor
— Christian Science Monitor
"In his engrossing new book Elizabeth and Hazel, David Margolick expands the frame to consider the difficult lives of its two central figures, their attempt at reconciliation, and the fact that they don't speak now. . . . Elizabeth and Hazel raises the specter that some damage doesn't heal. It is a notion profoundly unsettling to the story we Americans tell about ourselves."—Karen R. Long, Cleveland Plain-Dealer
— Karen R. Long
"Intricately woven and deeply affecting. . . . [Margolick's] choice to broaden and complicate the narrative - to include the larger minefield of race matters and honest discourse - is what makes this book salient, not sentimental. Elizabeth and Hazel's winding, rocky relationship, then, is a much more fitting and accurate metaphor for the country; this book, an attempt at a different, lasting after-image - this time in words."—Lynell George, Los Angeles Times
— Lynell George
"Judicious and bittersweet. . . . Margolick excels at framing the intimate details of each woman's life with a half-century of social and cultural upheaval....The deeper motives and psyches of the protagonists remain as elusive as any resolution to their story—and, perhaps, just as tangled. Nonfiction, as with photographs, can only do so much—though in Elizabeth and Hazel, it does more than enough."—Gene Seymour, Newsday
— Gene Seymour
"For Elizabeth and Hazel, it would have been simple enough to turn their stories into a 'where are they now' piece. But Margolick is after something bigger. Through Eckford and Bryan's tangled lives, he hopes to capture the complexity of race, forgiveness, and reconciliation in modern America."—Kevin Boyle, Washington Post
— Kevin Boyle