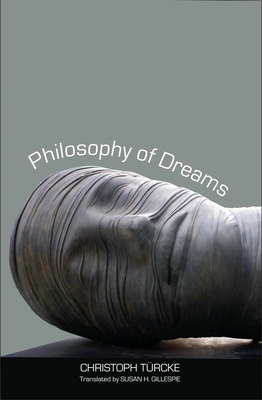 Philosophy of Dreams
Hardcover

* Individual store prices may vary.
Description
A sweeping reconstruction of human consciousness and its breakdown, from the Stone Age through modern technology

Why has humankind developed so differently from other animals? How and why did language, culture, religion, and the arts come into being? In this wide-ranging and ambitious essay, Christoph Türcke offers a new answer to these timeworn questions by scrutinizing the phenomenon of the dream, using it as a psychic fossil connecting us with our Stone Age ancestors.  Provocatively, he argues that both civilization and mental processes are the results of a compulsion to repeat early traumas, one to which hallucination, imagination, mind, spirit, and God all developed in response. Until the beginning of the modern era, repetition was synonymous with de-escalation and calming down. Then, automatic machinery gave rise to a new type of repetition, whose effects are permanent alarm and distraction. The new global forces of distraction, Türcke argues, are producing a specific kind of stress that breaks down the barriers between dreams and waking consciousness.  Türcke's essay ends with a sobering indictment of this psychic deregulation and the social and economic deregulations that have accompanied it.
Praise For Philosophy of Dreams…
"In this discussable, provocative, and exhilarating essay on the origins of culture, Christoph Türcke brilliantly combines a general theory of culture with a sharp critique of present society."—Detlev Claussen, Leibniz University of Hannover
— Detlev Claussen

"One of Germany's leading intellectuals reconstructs the process of civilization in this masterful and original new book.  Attempting to understand both the genesis of culture and the genesis of mind, Türcke shows how our technological age leads straight back to prehistory."—Oliver Decker, Universität Siegen
— Oliver Decker
"An elegant and profound speculation,
Philosophy of Dreams
recasts Freud's theory of dreams as a theory of human pre-history and its persistence in the technologized mind of the present. Wide-ranging and infinitely stimulating, Türcke presents nothing less than a  complex and highly original philosophy of cognition and representation."—Silke-Maria Weineck, University of Michigan
— Silke-Maria Weineck
Praise for the German Edition:
"The book covers just two-hundred fifty pages, but they are full to the brim. It remains to hope that "Philosophies des Traums" will be recognized for what it is; the genuine continuation, when not the "Aufhebung" of Freud's theory."—Burkhard Müller, Süddeutsche Zeitung
— Burkhard Müller
"astute"—Su¨ddeutsche Zeitung
— Süddeutsche Zeitung
"original"—Die Welt
— Die Welt
"audacious"—Literaturen
— Literaturen
"remarkable"—Die ZEIT
— Die ZEIT
"stunningly plausible"—Neue Zu¨rcher Zeitung
— Neue Zürcher Zeitung
Yale University Press, 9780300188400, 304pp.
Publication Date: October 22, 2013
About the Author
Christoph Türcke is professor of philosophy and religion at the Academy of Fine Arts in Leipzig, Germany, and the author of What Price Religion? Susan H. Gillespie has translated works by Theodor W. Adorno, Paul Celan, Helga Koenigsdorf, and Hanns Zischler, among others.