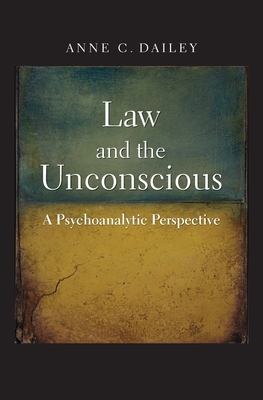 Law and the Unconscious (Hardcover)
A Psychoanalytic Perspective
Yale University Press, 9780300188837, 304pp.
Publication Date: November 28, 2017
* Individual store prices may vary.
Description
How do we bring the law into line with people's psychological experience?

How can psychoanalysis help us understand irrational actions and bad choices? Our legal system relies on the idea that people act reasonably and of their own free will, yet some still commit crimes with a high likelihood of being caught, sign obviously one-sided contracts, or violate their own moral codes—behavior many would call fundamentally irrational.
 
Anne Dailey shows that a psychoanalytic perspective grounded in solid clinical work can bring the law into line with the reality of psychological experience. Approaching contemporary legal debates with fresh insights, this original and powerful critique sheds new light on issues of overriding social importance, including false confessions, sexual consent, threats of violence, and criminal responsibility. By challenging basic legal assumptions with a nuanced and humane perspective, Dailey shows how psychoanalysis can further our legal system's highest ideals of individual fairness and systemic justice.
About the Author
Anne C. Dailey is Evangeline Starr Professor of Law at the University of Connecticut. She is a graduate of Yale College and Harvard Law School and has published widely on issues relating to children, families, and psychoanalysis. She lives in New Haven, CT.
Praise For Law and the Unconscious: A Psychoanalytic Perspective…
"A compelling call to revisit the core assumptions the legal system is built on."—Choice
"There is no compelling reason why the fraught history of psychoanalysis and the law should continue. Few interdisciplinary scholarly books have the possibility of changing a profession; Law and the Unconscious is one of them."—Jeffrey Berman, Paul W. Mosher, Journal of the American Psychoanalytic Association
Winner of the American Psychoanalytic Association's 2018 Courage to Dream Book Prize
Winner of the Sharon Harris 2018 Book Award, given by The University of Connecticut for the best book published in the humanities.
 
"Anne Dailey takes up the controversial relation of law and psychoanalysis in a book of great cogency and importance. She goes far beyond the standard quarrels that divide the two fields and makes a reasoned and forceful case for psychoanalysis as coming to the aid of the law—not opposing it—in a richer account of human autonomy and responsibility."—Peter Brooks, Princeton University, author of Troubling Confessions: Speaking Guilt in Law and Literature
"In this wise and wide-ranging book, Anne Dailey breathes fresh life into the psychoanalytic study of law. She makes the best case I know for the continuing relevance to law of the humanistic discipline of psychoanalysis and reminds us of the humility that must always accompany the law's fearful exercise of power when it relies on a conception of human agency that the psychoanalytic discovery of the unconscious teaches us is incomplete."—Anthony Kronman, Sterling Professor of Law, Yale Law School
"In this masterpiece of scholarship, Anne Dailey argues that legal theory and our system of justice have been missing an essential ingredient: how the human mind works. Her synthesis of psychoanalysis and the law offers nothing short of a paradigm shift in how we approach some of the most challenging and controversial legal questions of our time."—Jordan Smoller, Professor Psychiatry, Harvard Medical School and author of The Other Side of Normal
 
"With a rare combination of erudition, insight, and vision, Anne Dailey compellingly argues for a reintegration of legal and psychoanalytic thinking about human behavior. This is a provocative, historically grounded study with great contemporary relevance."—Susanna Blumenthal, author of Law and the Modern Mind: Consciousness and Responsibility in American Legal Culture