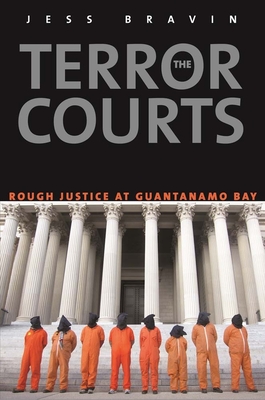 The Terror Courts
Rough Justice at Guantanamo Bay
Hardcover

* Individual store prices may vary.
Other Editions of This Title:
Paperback (3/25/2014)
MP3 CD (5/10/2016)
Description
The first inside account of America's continuing legal experiment at Guantanamo Bay—a permanent, offshore justice system designed to assure convictions by denying constitutional rights

Soon after the September 11 attacks in 2001, the United States captured hundreds of suspected al-Qaeda terrorists in Afghanistan and around the world. By the following January the first of these prisoners arrived at the U.S. military's prison camp in Guantanamo Bay, Cuba, where they were subject to President George W. Bush's executive order authorizing their trial by military commissions. Jess Bravin, the Wall Street Journal's Supreme Court correspondent, was there within days of the prison's opening, and has continued ever since to cover the U.S. effort to create a parallel justice system for enemy aliens. A maze of legal, political, and moral issues has stood in the way of justice—issues often raised by military prosecutors who found themselves torn between duty to the chain of command and their commitment to fundamental American values.
While much has been written about Guantanamo and brutal detention practices following 9/11, Bravin is the first to go inside the Pentagon's prosecution team to expose the real-world legal consequences of those policies. Bravin describes cases undermined by inadmissible evidence obtained through torture, clashes between military lawyers and administration appointees, and political interference in criminal prosecutions that would be shocking within the traditional civilian and military justice systems. With the Obama administration planning to try the alleged 9/11 conspirators at Guantanamo—and vindicate the legal experiment the Bush administration could barely get off the ground—The Terror Courts could not be more timely.
Praise For The Terror Courts: Rough Justice at Guantanamo Bay…
"A book that pulls no punches. It names names. And in so doing, it is a gutsy, finely wrought narrative that explains how a small group of Bush-era political appointees managed to develop a parallel justice system designed to ensure a specific outcome."—Dina Temple-Rastin,
The Washington Post
— Dina Temple-Rastin
"It's a pity that Kathryn Bigelow, the director of the acclaimed war-on-terror thriller
Zero Dark Thirty
, didn't have the opportunity to read Jess Bravin's meticulously reported account of America's trial practices for post–September 11 terror suspects,
The Terror Courts
." —Jane Mayer,
Democracy
— Jane Mayer
"
A damning, brave book by an author who is legitimately outraged by what he uncovered."—
Kirkus Reviews
— Kirkus Reviews
"Jess Bravin's The Terror Courts is the definitive account of the legal aftermath of 9/11—and the still-unsettled legacy of the decisions made in those frenzied days."—Jeffrey Toobin, author of The Oath: The Obama White House vs. the Supreme Court

— Jeffrey Toobin
"Jess Bravin has written an authoritative account of a dark chapter in American history, a chapter that is still being written. This riveting and deeply disturbing book should be required reading for all engaged citizens."—Anne-Marie Slaughter, Bert G. Kerstetter '66 University Professor of Politics and International Affairs, Princeton University
— Anne-Marie Slaughter

"Excellent. . .You should read this book now, while the hunger strike at Guantanamo Bay is growing. You should read it now, while there is a pending request by the Pentagon to spend another $49 million for a new prison on Cuba. You should read it now, while John Yoo is still the go-to guy for quotes about interrogations, and while Senators John McCain and Lindsey Graham, crows on a wire, are still offering up terrible advice about prosecuting detainees." —Andrew Cohen, The Atlantic
— Andrew Cohen

"This is the genius of Bravin's book—and what sets it apart from what has come before. He doesn't just give us context and perspective about the ideological battles waged among Bush Administration officials over torture. He doesn't just explain why the Obama Administration still has failed to recover from the early errors of judgment that marked the first tribunal processes. He also highlights the utterly self-defeating role played by the military-political complex." —Andrew Cohen, The Atlantic
— Andrew Cohen

"A riveting and at times scathing account of the formation of the commissions and how they have been troubled from the beginning over questions about detainee abuse and the legitimacy of commissions themselves."—Arun Rath, PRI's The World
— Arun Rath

"A remarkable job by one of the news media's most persistent reporters on matters of law and national security. Bravin penetrated a system designed for railroading prisoners in near-total secrecy, and he demonstrated the persistence of many ordinary—and some extraordinary—Americans' visceral devotion to such quaint notions as the presumption of innocence and the rule of law."—Harvey Silverglate, Reason 
— Harvey Silverglate

"Bravin does a masterful job documenting the flaws in the military commission system and describing the petty bureaucrats who tried to cover them up. He is not soft on the detainees, and in fact reveals a number of new details showing how deeply and dangerously some were involved in Al Qaeda . . . . It's impossible to read this book, though, without coming away dumbfounded anew by the extent to which the Bush Administration contributed to its own legal difficulties by resorting to shortcuts, abuse, and legal overreaching . . . . These are not easy stories to tell, but Bravin sketches them ably, bringing to life not just the arguments on both sides, but the personalities and the motivations of the main players from Bush to Obama."—Jane Mayer, Democracy
— Jane Mayer

"Bravin brings cohesion and drama to the story, which is a genuine public service. He does this by focusing on the struggle of a wonderful protagonist, military prosecutor and Marine Corps Lieutenant Colonel Stuart Couch, whose moral clarity and professional ethics are repeatedly assaulted by the unconstitutional process in which he finds himself participating. We see much of the story through Couch's eyes, and as a result, the drama is personal, even emotional."—Jane Mayer, Democracy
— Jane Mayer

"A scintillating look inside military commissions!" —Concord Monitor
— Concord Monitor

"The Terror Courts makes compelling arguments that, compared to civilian trials, the military trials take longer, cost more, have inferior procedures and produce more lenient sentences. Forget about the ideological and legal debates over the military tribunals: The things just don't work."—Dana Milbank, Washington Post

— Dana Milbank

"The Terror Courts provides much-needed insight into the maddening history of the military commissions, and provides a tirelessly reported, clearly written depiction of these bastardized, superfluous, and unnecessary tribunals. . . Are you among the vast majority of Americans who have a hard time believing that our country would attempt to execute criminal defendants by trying them in a traveling circus? Then read this book."—Tom Durkin, Commonweal
— Tom Durkin


A Publishers Weekly Top-Ten Political Book Pick
— Publishers Weekly


"The first inside account of America's continuing legal experiment at Guantanamo Bay."—Publishers Weekly
— Publishers Weekly

"A scintillating look inside military commissions!"—Tampa Bay Times
— Tampa Bay Times


"A scintillating look inside military commissions!"—Concord (N.H.) Monitor
— Concord (N.H.) Monitor

"[S]ynthesizing many sources into an accessible history. . . Bravin's book is a welcome addition to the history of national security legal policy dilemmas in the Bush era."—The New York Times
— Charlie Savage


"Jess Bravin's book The Terror Courts: Rough Justice at Guantanamo Bay. . . tells the story of the evolution of Guantanamo's legal universe in captivating detail, and provides the reader with a clear picture of just how we arrived at this bizarre moment in our history."—John Knefel, Rolling Stone
— John Knefel

"Powerful . . . [The journalist's] craft shines through, drawing the reader into the human story at its heart . . . . [Bravin's] fascinating insights into the role of social interaction and friendships in the formation of the trial processes at Guantanamo Bay…demonstrate the kind of legal culture that academics speak of but rarely paint as vividly."—Inside Story (Australia)
— Inside Story

"Most readers probably know that the military commissions have not been a great success, but the core accomplishment of Bravin's book is to bring home the scope of the disaster, and the profound diffculties from which American justice will now have to extricate itself. Its excellence consists in telling this story on a scale that is human and engaging."—Avery Plaw, International Affairs
— Avery Plaw

Named one of the top books of the year (2013) by the Kansas City Star
— Kansas City Star

Washington Post Notable Nonfiction of 2013
— Washington Post

Winner of the 2013 American Bar Association's Silver Gavel Award for Media and Arts in the book category.
— Silver Gavel Award

"Gripping and comprehensive."—International Review of the Red Cross 
— International Review of the Red Cross

"Highly recommended for an overarching backstory to . . . one of the greatest American legal and human rights controversies of the twenty-first century . . . . In addition to containing a compelling story . . . The Terror Courts provides valuable lessons for government and military lawyers who may one day find themselves caught up in history-making cases."—Mjr. Thomas S. Hong, The Army Lawyer
— Mjr. Thomas S. Hong
Yale University Press, 9780300189209, 448pp.
Publication Date: February 19, 2013
About the Author
Jess Bravin, Supreme Court correspondent for the Wall Street Journal, has covered the Guantanamo military commissions since 2001. The author of Squeaky: The Life and Times of Lynette Fromme, he is based in Washington, DC.
or
Not Currently Available for Direct Purchase