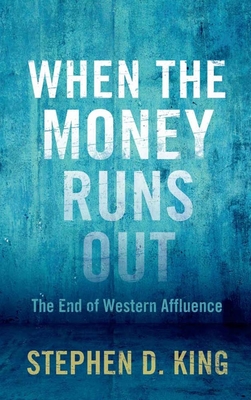 When the Money Runs Out (Hardcover)
The End of Western Affluence
Yale University Press, 9780300190526, 304pp.
Publication Date: June 25, 2013
Other Editions of This Title:
Paperback (5/29/2018)
Paperback (4/29/2014)
* Individual store prices may vary.
Description
The Western world has experienced extraordinary economic progress throughout the last six decades, a prosperous period so extended that continuous economic growth has come to seem normal. But such an era of continuously rising living standards is a historical anomaly, economist Stephen D. King warns, and the current stagnation of Western economies threatens to reach crisis proportions in the not-so-distant future.
Praised for the "dose of realism" he provided in his book Losing Control, King follows up in this volume with a plain-spoken assessment of where the West stands today. It's not just the end of an age of affluence, he shows. We have made promises to ourselves that are achievable only through ongoing economic expansion. The future benefits we expect—pensions, healthcare, and social security, for example—may be larger than tomorrow's resources. And if we reach that point, which promises will be broken and who will lose out? The lessons of history offer compelling evidence that political and social upheaval are often born of economic stagnation. King addresses these lessons with a multifaceted plan that involves painful—but necessary—steps toward a stable and just economic future.
About the Author
Stephen D. King is the author of When the Money Runs Out: The End of Western Affluence (2013) and Losing Control: The Emerging Threats to Western Prosperity (2010), both published by Yale. He combines his role as HSBC's Senior Economic Adviser with journalism and consultancy work, and is a specialist adviser to the House of Commons Treasury Committee.
 
Praise For When the Money Runs Out: The End of Western Affluence…
"Well-written, thoughtful and highly convincing. . . . [King's] clear-eyed assessment of the problems ahead makes the book essential reading."—The Economist
— The Economist
"For many, the financial crisis is a temporary interruption in the rise of western prosperity that is due to easily remedied policy mistakes. The Keynesians believe this, as do anti-Keynesians on the free-market right. King argues, instead, that the future is not what it used to be. We have made promises to ourselves we cannot afford to keep. The argument is important, even if, like me, you are not persuaded." —Martin Wolf, Financial Times.
— Martin Wolf
"A 'powerful' and 'convincing' book. Overall, as Charles Moore notes in The Daily Telegraph, 'it's alarmingly difficult to disagree' with this book."—Matthew Partridge, Money Week.
— Matthew Partridge


"The book is jammed full of history [...] and is highly readable - being rich in the economic history that he argues was lacking in pre-crisis economic analysis. It is accompanied by some wonderful anecdotes and provides a good mix of economics and politics in addition to its historical detail."—George Buckley, Financial World
— George Buckley
"Stephen King, chief economist at HSBC, has just published an interesting and well-written book When the Money Runs Out."—Paul Ormerod, City AM
— Paul Ormerod
"In this book, HSBC's chief economist describes a real-life economic horror story, picking over the bones of the global financial crisis with the professional detachment of a forensic scientist examining the scene of a crime. The conclusions are clear and compelling. By the end, we know whodunit, how it was done and why, without resort to economic jargon – there are few acronyms, no equations and no charts. Instead we are offered policy prescriptions that ring true – uncomfortably so . . . The book should appeal to a wider audience than economists. The author is a newspaper columnist as well as a professional economist, and it shows in the crisp and easy style of his prose. I recommend it heartily."—Erik Britton, Management Today
— Erik Britton
"The author has tightly reasoned arguments. . . and suggestions for the steps that should be taken to ensure economic stability for future generations."—Library Journal
— Library Journal
"[King] is dabbling in the financial equivalent of the horror genre. Perhaps even scarier, his is the stuff of nonfiction."—Michael J. Casey, The Wall Street Journal
— Michael J. Casey
"When the Money Runs Out sets out well the problems facing advanced economies." —David Smith, The Sunday Times
— David Smith
"A thoughtful and convincing assessment of what happens when the rich world becomes over-accustomed to rising standards of living but cannot afford the benefits its governments have promised, by the chief-economist at HSBC. Serious scaremongering; worthy of Stephen King's horror-writing namesake."—
The Economist
, (named a 2013 Book of the Year)
— The Economist
or
Not Currently Available for Direct Purchase