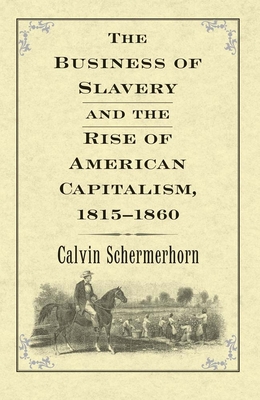 The Business of Slavery and the Rise of American Capitalism, 1815–1860
Hardcover

* Individual store prices may vary.
Description
Calvin Schermerhorn's provocative study views the development of modern American capitalism through the window of the nineteenth-century interstate slave trade. This eye-opening history follows money and ships as well as enslaved human beings to demonstrate how slavery was a national business supported by far-flung monetary and credit systems reaching across the Atlantic Ocean. The author details the anatomy of slave supply chains and the chains of credit and commodities that intersected with them in virtually every corner of the pre–Civil War United States, and explores how an institution that destroyed lives and families contributed greatly to the growth of the expanding republic's capitalist economy.
Praise For The Business of Slavery and the Rise of American Capitalism, 1815–1860…
"The best book ever written on role of the interstate slave trade in the economic history of the United States—both north and south. Absolutely essential."—Walter Johnson, author of River of Dark Dreams: Slavery and Empire in the Cotton Kingdom
— Walter Johnson

"Shattering the myth of a neo-feudal, backward South, Calvin Schermerhorn deftly reveals the entrepreneurial slave traders who helped to develop American capitalism. Clear and cogent, The Business of Slavery illuminates the flow of humans, treated as commodities, passing through innovative conduits of transportation and finance to constitute a nation's perverse wealth."—Alan Taylor, author of The Internal Enemy: Slavery and War in Virginia, 1772–1832
— Alan Taylor

"In this powerful book, Calvin Schermerhorn revolutionizes how we view the domestic slave trade. The commodification of enslaved Americans not only drove the southern economy, but fueled capitalist development in the North and Europe. Splendidly written and tautly argued, this book is a singular achievement."—Robert Gudmestad, author of Steamboats and the Rise of the Cotton Kingdom
— Robert Gudmestad

"Historians have devoted considerable attention to the domestic slave trade, but the strategy of looking at the evolution of representative slave trading firms offers a fresh approach."—John Majewski, University of California, Santa Barbara
— John Majewski
Yale University Press, 9780300192001, 352pp.
Publication Date: April 28, 2015
About the Author
Calvin Schermerhorn teaches history in the School of Historical, Philosophical, and Religious Studies at Arizona State University. He is the author of Money over Mastery, Family over Freedom: Slavery in the Antebellum Upper South.
or
Not Currently Available for Direct Purchase