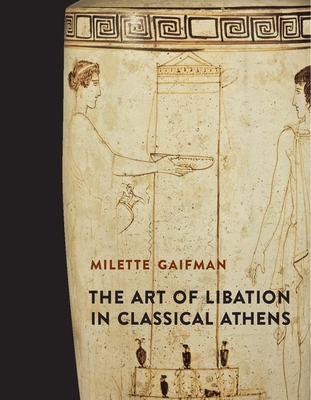 The Art of Libation in Classical Athens
Hardcover

* Individual store prices may vary.
Description
This handsome volume presents an innovative look at the imagery of libations, the most commonly depicted ritual in ancient Greece, and how it engaged viewers in religious performance. In a libation, liquid—water, wine, milk, oil, or honey—was poured from a vessel such as a jug or a bowl onto the ground, an altar, or another surface. Libations were made on occasions like banquets, sacrifices, oath-taking, departures to war, and visitations to tombs, and their iconography provides essential insight into religious and social life in 5th-century BC Athens. Scenes depicting the ritual often involved beholders directly—a statue's gaze might establish the onlooker as a fellow participant, or painted vases could draw parallels between human practices and acts of gods or heroes. Beautifully illustrated with a broad range of examples, including the Caryatids at the Acropolis, the Parthenon Frieze, Attic red-figure pottery, and funerary sculpture, this important book demonstrates the power of Greek art to transcend the boundaries between visual representation and everyday experience.
Praise For The Art of Libation in Classical Athens…
"Groundbreaking . . . An exemplary work of scholarship . . . the definitive study on the art of libations."—Courtney Baron, ARLIS/NA Reviews

"In this intelligent and rigorous study, Milette Gaifman has taken on one of the most challenging topics in ancient Greek religion and iconography. This is an exemplary book."—Verity Platt, Cornell University

"Milette Gaifman's book is extremely well planned, written, and organized around specific images and works of art. Frankly, it is both cutting-edge and exemplary."—Jaś Elsner, Corpus Christi College Oxford


Yale University Press, 9780300192278, 196pp.
Publication Date: February 27, 2018
About the Author
Milette Gaifman is associate professor of Greek art and archaeology jointly appointed in the Departments of Classics and History of Art at Yale University.
or
Not Currently Available for Direct Purchase