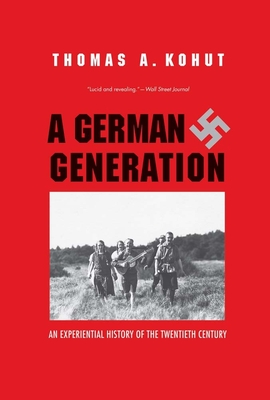 A German Generation
An Experiential History of the Twentieth Century
Paperback

* Individual store prices may vary.
Other Editions of This Title:
Hardcover (1/25/2012)
Description
Germans of the generation born just before the outbreak of World War I lived through a tumultuous and dramatic century. This book tells the story of their lives and, in so doing, offers a new history of twentieth-century Germany, as experienced and made by ordinary human beings.
On the basis of sixty-two oral-history interviews, this book shows how this generation was shaped psychologically by a series of historically engendered losses over the course of the century. In response, this generation turned to the collective to repair the losses it had suffered, most fatefully to the community of the "Volk" during the Third Reich, a racial collective to which this generation was passionately committed and which was at the heart of National Socialism and its popular appeal.
Praise For A German Generation: An Experiential History of the Twentieth Century…
"Lucid and revealing."—
The Wall Street Journal
— The Wall Street Journal
"A provocative, poignant, and at times painful meditation on what Thomas Kohut calls 'the grace' of historical experience, in which Germany's war-torn twentieth-century generation looks remarkably like, but also differs substantially from the 'greatest generation' in the United States.
A German Generation
reveals the staggering losses of German history, but also the abiding desire for community and belonging, the allure of the Third Reich, and the misplacement of guilt and introspection after 1945. A remarkable portrait of a generation in the century of genocide."—Peter Fritzsche, author of
Life and Death in the Third Reich
— Peter Fritzsche
"Handled with imagination, skill, and sophistication, Kohut's work of oral history meets the challenge that all history writing should master but seldom does: to think history not from its outcome but as experienced by those who lived it."—Ute Daniel, author of Kompendium Kulturgeschichte
— Ute Daniel


"Kohut has written a fascinating collective biography of the so-called 'Jahrhundertgeneration,' those middle-class Germans who in adolescence were powerfully influenced by the youth movement and whose lives spanned the course of the twentieth century. Kohut's reconstruction and psycho-historical analysis of their life history and historical influence from the last years of the Weimar Republic, over the National-Socialist period, to the Federal Republic of Germany is extraordinarily innovative and will stimulate future research."—Jürgen Reulecke, Freiburg Institute for Advanced Studies
— Jürgen Reulecke


"An original and illuminating contribution to the thickly congested field of scholarship on Nazism and popular experience in Germany's twentieth century."—Geoff Eley, author of A Crooked Line: From Cultural History to the History of Society
— Geoff Eley
"Thomas Kohut is a truly fine historian, a reigning master of the craft. His historical perspective is informed by a rich understanding of both psychoanalytic theory and clinical experience, and he has a finely tuned sociological sensibility as well. He brings a very special brilliance to this remarkable work."—Kai Erikson, Yale University
— Kai Erikson

"A book that is both innovative and revealing."—Gerhard Weinberg, Journal of Interdisciplinary History
— Gerhard Weinberg
"Kohut comes up with a brilliant and unconventional structure to deal with this collective story . . .These are short and concise texts which also serve as an introduction to the central questions of twentieth-century German history and to the influential positions of scholarly writing on this history. Using this structure, Kohut has written a book that offers much more than the experiential history of a small group of Germans who lived through the twentieth century. Although he repeatedly reminds us of the limited number and the specificities of the interviewees, he has derived from them insights and perspectives with a much broader scope."—Dorothee Wierling, German History
— Dorothee Wierling
Yale University Press, 9780300192452, 352pp.
Publication Date: March 29, 2013
About the Author
Thomas A. Kohut is the Sue and Edgar Wachenheim III Professor of History at Williams College and author of Wilhelm II and the Germans: A Study in Leadership. He lives in Williamstown, MA.
or
Not Currently Available for Direct Purchase