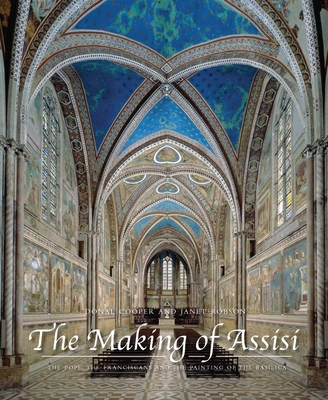 The Making of Assisi
The Pope, the Franciscans, and the Painting of the Basilica
Hardcover

* Individual store prices may vary.
Description
For a brief moment at the close of the 13th century, the town of Assisi was the focus for the two greatest powers in the Latin Church: the Roman papacy and the Franciscan Order. The election in 1288 of Nicholas IV, the first Franciscan pope, was the catalyst for the creation of frescoes of unprecedented intellectual ambition in the Basilica of San Francesco. At the heart of the new decorative scheme were twenty-eight scenes depicting the life of Saint Francis. Putting to one side the long debate about whether the Saint Francis cycle was or was not painted by Giotto, The Making of Assisi takes a fresh approach and treats the cycle as part of a larger, integrated, and far-reaching program of renewal at the Basilica.
In this deeply researched, illuminating, and beautifully illustrated book, Donal Cooper and Janet Robson investigate the particular historical moment in which the frescoes were made, casting new light on their patronage and iconography.
Praise For The Making of Assisi: The Pope, the Franciscans, and the Painting of the Basilica…
"It is those frescoes – notably the 28 that make up the St Francis cycle – that are the subjects of this lavishly illustrated and thought-provoking work of exemplary and accessible scholarship by art historians Donal Cooper and Janet Robson." —Peter Stanford,
The Daily Telegraph
— Peter Stanford
"[A]n extraordinarily sophisticated investigation of [Assisi's] patronage and iconography."—David Ekserdjian, The Spectator
— David Ekserdjian

"[An]outstanding book which show how art can change the world [and] demonstrates, through an intelligent combination of visual and historical research, the transformative role of art and architecture within this revolutionary process. . . [T]he originality of Donal Cooper and Janet Robson is to give a more considered and convincing account than ever before of the care with which the imagery in the church was devised, in order to convey to a diverse audience the complexity of Francis's example of Christian living."—Gervase Rosser, Apollo Magazine
— Gervase Rosser


'Clearly this impressive and densely argued book will stimulate lively reactions. . .This is above all a lucid, courageous and extremely well-informed discussion of the decorations of the Upper Church.'—Julian Gardner, Burlington Magazine
— Julian Gardner
Winner of the 2014 Authors' Club Art Book Prize
— Art Book Prize
Yale University Press, 9780300195712, 296pp.
Publication Date: October 8, 2013
About the Author

Donal Cooper is an associate professor (lecturer) in the History of Art Department, University of Warwick. Janet Robson is an independent scholar.
or
Not Currently Available for Direct Purchase