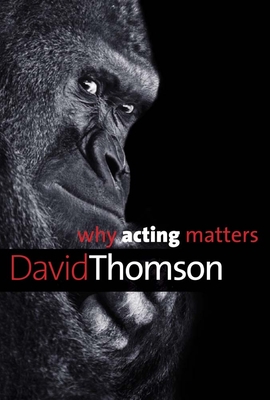 Why Acting Matters (Why X Matters Series) (Hardcover)
Yale University Press, 9780300195781, 192pp.
Publication Date: February 17, 2015
Other Editions of This Title:
Paperback (2/9/2016)
* Individual store prices may vary.
Description
A provocative, highly engaging essay on the art of pretending on the stage, on screen, and in daily life

Does acting matter? David Thomson, one of our most respected and insightful writers on movies and theater, answers this question with intelligence and wit. In this fresh and thought-provoking essay, Thomson tackles this most elusive of subjects, examining the allure of the performing arts for both the artist and the audience member while addressing the paradoxes inherent in acting itself. He reflects on the casting process, on stage versus film acting, and on the cult of celebrity. The art and considerable craft of such gifted artists as Meryl Streep, Laurence Olivier, Vivien Leigh, Marlon Brando, Daniel Day-Lewis, and others are scrupulously appraised here, as are notions of "good" and "bad" acting.
 
Thomson's exploration is at once a meditation on and a celebration of a unique and much beloved, often misunderstood, and occasionally derided art form. He argues that acting not only "matters" but is essential and inescapable, as well as dangerous, chronic, transformative, and exhilarating, be it on the theatrical stage, on the movie screen, or as part of our everyday lives.
About the Author
David Thomson is the author of more than twenty books, including biographies of David O. Selznick and Orson Welles, and The New Biographical Dictionary of Film. He lives in San Francisco, CA.
Praise For Why Acting Matters (Why X Matters Series)…
"The ridiculously prolific and perceptive film critic, film historian, and film biographer does some serious mulling about the art and craft of acting. . . . The perfect book to read in the wake of all that congratulatory hoo-ha at the Academy Awards."—Steven Rea, Philadelphia Inquirer
— Steven Rea
"Gossip and insight go hand in hand in this witty, exuberant essay on the acting greats by one of our most imaginative writers on film.  Backstage, off-stage and what might have been infuse Thomson's compelling examination of the storied performances of our time.  He brings a fresh eye to Olivier, Kazan, the evolution and demise of Method acting.  But he also speculates. After all, what are actual memories but an invitation to new, hypothetical ones? Brando as Archie Rice? Olivier as Stanley Kowalski? Read it and wonder (or argue) with Thomson."—MOLLY HASKELL
— Molly Haskell
"Entertaining and thought-provoking . . . This is a book for appreciators of film and theater; for actors, whether aspiring or established; and for anyone who wants to know why acting has fascinated and enlightened us for centuries."—Sarah Grant, Booklist
— Sarah Grant
"A very thoughtful and serious essay on an elusive and illusory art."—Library Journal
— Library Journal
"Characteristically elegant . . . Riddling, sophisticated, whimsical, Mr. Thomson commands an affecting lyricism that sweetly betrays his love for his subject."—Simon Callow, Wall Street Journal
— Simon Callow
"In this consideration of the actor's craft, a noted film historian anatomizes favorite performances and speculates on ones that might have been (such as a Philip Seymour Hoffman Hamlet). Thomson demonstrates a subtle understanding of the mind-set of the actor, adept at storytelling, spying, lying, and secrecy."—New Yorker
— New Yorker
'David Thomson is one of the funniest and most insightful writers on cinema.'—Kate Muir, the Times,

— Kate Muir
'...this book has a nugget of interest on almost every page.'—Anthony Quinn, the Guardian.

— Anthony Quinn
"Thomson's book is rich with insight not only on the general topic of acting but also on particular performers — he is particularly good at comparing and contrasting Brando and Sir Laurence Olivier, the most celebrated actors of recent times."—Washington Post
— Washington Post
"The book's jacket notes describe Why Acting Matters as both a meditation and a celebration of acting, an accurate assessment of these witty reflections on an elusive topic presented by one of Britain's foremost film experts . . . [Thomson] equally understands the entertainment industry, actors and acting, and the way to tell a good story about them. Among these fascinating tales, he weaves salient points about why people care so much about acting."—Popmatters
— Popmatters
"Erudite and entertaining."—San Francisco Chronicle
— San Francisco Chronicle
"An eloquent, vivid, irritating book full of sharp nuggets of facts and bright jewels of opinionated air."—Sydney Morning Herald
— Sydney Morning Herald
"Thomson's strengths are many, and his writing overflows with compassion, wide experience of life, and cultivation. Those traits are all on display here."—Weekly Standard
— Weekly Standard
"Why Acting Matters is, in its improvisational freedom and depth of thought, one of the great and original books about its subject in recent days . . . It is, page by page, brilliant."—Jeff Simon, Buffalo News
— Jeff Simon
"Drunk on pretense, stabbing the vein of the craft's wildest ambitions and anxieties, Thomson writes as the thespian's greatest advocate, the critic as idea engine who launches a thousand arguments."—Tim Riley, National Memo
— Tim Riley