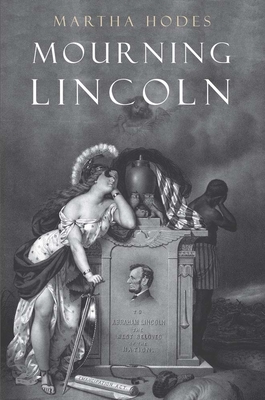 Mourning Lincoln
Hardcover

* Individual store prices may vary.
Other Editions of This Title:
Digital Audiobook (12/21/2015)
Compact Disc (12/22/2015)
MP3 CD (12/22/2015)
Paperback (2/9/2016)
Description
How did individual Americans respond to the shock of President Lincoln's assassination? Diaries, letters, and intimate writings reveal a complicated, untold story.
Winner of the Gilder Lehrman Lincoln Prize, a Wall Street Journal Best Book of 2015, and a long list finalist for the National Book Award   "[A] lyrical and important new study."—Jill Lepore, New York Times Book Review
"Richly detailed and exquisitely written, . . . it immerses the readers in the world of 1865."—Anne Sarah Rubin, Journal of American History

The news of Abraham Lincoln's assassination on April 15, 1865, just days after Confederate surrender, astounded the war-weary nation. Massive crowds turned out for services and ceremonies. Countless expressions of grief and dismay were printed in newspapers and preached in sermons. Public responses to the assassination have been well chronicled, but this book is the first to delve into the personal and intimate responses of everyday people—northerners and southerners, soldiers and civilians, black people and white, men and women, rich and poor.
 
Through deep and thoughtful exploration of diaries, letters, and other personal writings penned during the spring and summer of 1865, Martha Hodes, one of our finest historians, captures the full range of reactions to the president's death—far more diverse than public expressions would suggest. She tells a story of shock, glee, sorrow, anger, blame, and fear. "'Tis the saddest day in our history," wrote a mournful man. It was "an electric shock to my soul," wrote a woman who had escaped from slavery. "Glorious News!" a Lincoln enemy exulted. "Old Lincoln is dead, and I will kill the goddamned Negroes now," an angry white southerner ranted. For the black soldiers of the Fifty-Fourth Massachusetts, it was all "too overwhelming, too lamentable, too distressing" to absorb.
 
There are many surprises in the story Hodes tells, not least the way in which even those utterly devastated by Lincoln's demise easily interrupted their mourning rituals to attend to the most mundane aspects of everyday life. There is also the unexpected and unabated virulence of Lincoln's northern critics, and the way Confederates simultaneously celebrated Lincoln's death and instantly—on the very day he died—cast him as a fallen friend to the defeated white South.
 
Hodes brings to life a key moment of national uncertainty and confusion, when competing visions of America's future proved irreconcilable and hopes for racial justice in the aftermath of the Civil War slipped from the nation's grasp. Hodes masterfully brings the tragedy of Lincoln's assassination alive in human terms—terms that continue to stagger and rivet us one hundred and fifty years after the event they so strikingly describe.
Praise For Mourning Lincoln…
"Beautiful and terrible, Hodes's marvelously written story of the assassination fills the mind, heart and soul. People never forgot the event; this book is a page-turner that makes it all unforgettable again as it also explains how one shocking death illuminated so many others."—David W. Blight, author of Race and Reunion: The Civil War in American Memory
— David W. Blight

"There are many books on the Lincoln assassination and the public response to it. But Martha Hodes's work is the first to focus in great detail on the responses of ordinary individuals, Northern and Southern, white and black, soldiers and civilians, women and men, in their diaries and personal correspondence, and to blend such response into the larger story of public events. The amount of research is simply staggering. This is a highly original, lucidly written, book."—James M. McPherson, author of Battle Cry of Freedom
— James McPherson

"Mourning Lincoln is an original and important book that traces various reactions to Lincoln's assassination. Through extensive research, Martha Hodes has discovered voices that are both moving and surprising.  The result is an illuminating work that allows us for the first time to understand fully the meaning of Lincoln's death at the time."—Louis P. Masur, author of Lincoln's Hundred Days
— Louis P. Masur

"Drawing on a remarkable range of diaries, letters, and other contemporary documents, Martha Hodes offers a compelling and moving account of how Americans, black and white, North and South, responded to Lincoln's assassination. The result is a portrait of a deeply divided country and a foreshadowing of the violent battles to come over reunion and Reconstruction."—Eric Foner, author of The Fiery Trial: Abraham Lincoln and American Slavery and Reconstruction: America's Unfinished Revolution, 1863–1877
— Eric Foner

"In Mourning Lincoln, Martha Hodes' ingenious approach and graceful execution succeed in deepening our knowledge of a calamity that will never fully end."—Thomas Mallon, author of Henry and Clara and Mrs. Paine's Garage
— Thomas Mallon

"This book is a timely reminder that wars rarely end on the battlefield. Through the lens of Lincoln's death, Martha Hodes vividly portrays a scarred and bitter nation that has laid down its arms yet embarked on a conflict that endures 150 years after Appomattox."—Tony Horwitz, author of Confederates in the Attic: Dispatches from the Unfinished Civil War
— Tony Horwitz

Selected as a long list finalist for the 2015 National Book Awards for Nonfiction.
— National Book Awards

Winner of the 2016 Gilder Lehrman Lincoln Prize. The prize was co-founded and endowed by businessmen and philanthropists of the Gilber Lehrman Institute of American History in New York and co-creators of the Gilder Lehrman Collection, one of the largest private archives of documents and artifacts in the nation.
— Lincoln Prize

Winner of the 2016 Avery O. Craven Award from the Organization of American Historians.
— Avery O. Craven
Yale University Press, 9780300195804, 408pp.
Publication Date: February 24, 2015
About the Author
Martha Hodes is professor of history at New York University. She is the author of two previous prize-winning books, The Sea Captain's Wife: A True Story of Love, Race, and War in the Nineteenth Century and White Women, Black Men: Illicit Sex in the Nineteenth-Century South.
or
Not Currently Available for Direct Purchase