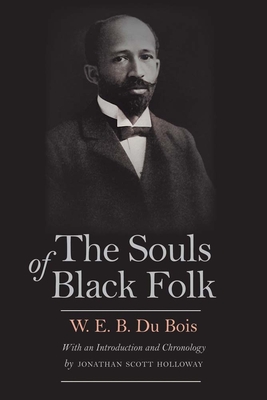 The Souls of Black Folk (Paperback)
Yale University Press, 9780300195828, 240pp.
Publication Date: June 30, 2015
Other Editions of This Title:
Paperback (2/10/2014)
Paperback (1/10/2014)
Paperback (10/17/2017)
Paperback (5/24/2019)
Paperback (3/13/2014)
Paperback (10/15/2011)
Paperback (6/21/2011)
Paperback (6/2/2018)
Paperback (4/27/2017)
Paperback (10/18/2018)
Paperback (7/30/2008)
* Individual store prices may vary.
Description
This collection of essays by scholar-activist W. E. B. Du Bois is a masterpiece in the African American canon. Du Bois, arguably the most influential African American leader of the early twentieth century, offers insightful commentary on black history, racism, and the struggles of black Americans following emancipation. In his groundbreaking work, the author presciently writes that "the problem of the twentieth century is the problem of the color line," and offers powerful arguments for the absolute necessity of moral, social, political, and economic equality. These essays on the black experience in America range from sociological studies of the African American community to illuminating discourses on religion and "Negro music," and remain essential reading in our so-called "post-racial age." A new introduction by Jonathan Scott Holloway explores Du Bois's signature accomplishments while helping readers to better understand his writings in the context of his time as well as ours.
About the Author
W. E. B. Du Bois (1868–1963) was one of the most important African American intellectuals of the twentieth century. Jonathan Scott Holloway is Edmund Morgan professor of history, African American studies, and American studies at Yale University.
Praise For The Souls of Black Folk…
"Jonathan Holloway introduces W. E. B. Du Bois' 1903 classic for our time, when visions of a 'post-racial' America clash with the enduring centrality of what Du Bois termed 'the problem of the color-line.' We need Du Bois now more than ever, and an edition of The Souls of Black Folk that provides the context and the catalyst for connecting Du Bois's ideas to our present circumstances will be invaluable in my classroom and, undoubtedly, in many others."—Adam Bradley, University of Colorado, Boulder
"Given that thousands of pages have been written on Du Bois and his magnum opus, it is truly remarkable that Holloway manages to convey the richness and diversity of both man and text in so short a space. The introduction does an excellent job arguing for the continued relevance of Du Bois in our contemporary 'post-racial' world."—Nico Slate, Carnegie Mellon University
"W.E.B. Du Bois' Souls of Black Folk is one of the most iconic texts of the twentieth century. But Jonathan Scott Holloway's graceful new introduction brings Souls forward to a new generation as more than a primary source of our racial past, now serving as a scythe to help cut through the maddening claims of a post-racial present. Holloway powerfully asserts that 'a "post racial consciousness" is a false consciousness,' while DuBois' prophetic diagnosis of a color line continues to ail the world today as much as ever before."—Davarian L. Baldwin, author of Chicago's New Negroes