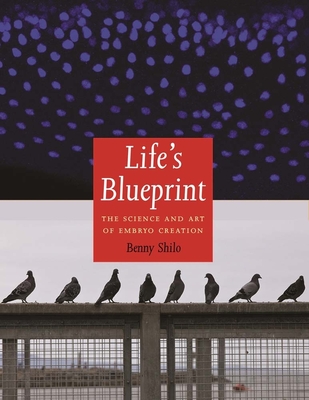 Life's Blueprint
The Science and Art of Embryo Creation
Hardcover

* Individual store prices may vary.
Description
A uniquely accessible way of looking at recent major advances in the science of embryonic development

In the span of just three decades, scientific understanding of the formation of embryos has undergone a major revolution. The implications of these new research findings have an immediate bearing on human health and future therapies, yet most nonscientists remain quite unaware of the exciting news.
 
In this engaging book, a distinguished geneticist offers a clear, jargon-free overview of the field of developmental biology. Benny Shilo transforms complicated scientific paradigms into understandable ideas, employing an array of photographic images to demonstrate analogies between the cells of an embryo and human society. Shilo's innovative approach highlights important concepts in a way that will be intuitive and resonant with readers' own experiences.
 
The author explains what is now known about the mechanisms of embryonic development and the commanding role of genes. For each paradigm under discussion, he provides both a scientific image and a photograph he has taken in the human world. These pairs of images imply powerful metaphors, such as the similarities between communication among cells and among human beings, or between rules embedded in the genome and laws that govern human society. The book concludes with a glimpse of promising future possibilities, including the generation of tissues and organs for use as "spare parts."

Supported by a grant from the Alfred P. Sloan Foundation Public Understanding of Science and Technology Program
Praise For Life's Blueprint: The Science and Art of Embryo Creation…
"Benny Shilo has had a distinguished career as a scientist seeking to understand how embryos develop, but he hasn't lost the sense of wonder we all have when we first learn how each of us developed from a single egg. In Life's Blueprint, Shilo uses wonderfully lucid explanations, elegant metaphors, and lovely illustrations to bring the marvel of development to light."—Carl Zimmer, co-author of Evolution: Making Sense of Life
— Carl Zimmer

"Shilo provides a broad and informative overview of the field of developmental biology. A timely and engaging introduction to the field for a non-specialist audience."—James Briscoe, MRC-National Institute for Medical Research, UK
— James Briscoe

"This is a wonderful, as well as beautiful, book; using the immediately recognizable imagery of photography to convey deep concepts in embryology in a medium that makes it intuitively understandable to a wide audience."—Cliff Tabin, Harvard Medical School
— Cliff Tabin

"Shilo's explorations for making the complexities of the microscopic and submicroscopic world accessible through the use of everyday visual metaphors succeeds brilliantly. One can only hope that this book will represent the precedent for other similar ones that make modern biology accessible to a general public deeply interested in these topics. A bold and creative venture."--Robert A. Weinberg, Whitehead Institute for Biomedical Research & Department of Biology, MIT
— Robert A. Weinberg

"This superb book, which reflects Benny Shilo's creativity and his profound understanding of organismal development, uses the eloquence of visual metaphors from common day life to convey the essence developmental processes and concepts. Public understanding of science is absolutely critical now and will be even more so in the future. This project in science communication is an exemplary one."—Anne Ephrussi, European Molecular Biology Laboratory
— Anne Ephrussi

"Benny Shilo is looking at life through scientific eyes. Esthetics like science is part of the mystery of patterns which he has an urge to explore. His images manifest his ability to find the beauty in biological systems; and in parallel to find Esthetic systems and beauty in the reality around him."—Artist Michal Rovner
— Michal Rovner

'. . .readers will come away from Shilo's book with a better feel for how a developing embryo can organise itself. In later chapters, he also hints at the practical implications, such as the growth of tumours, stem cells and developmental abnormalities. This – plus the appealing visual analogies – make the book worthwhile for anyone with even a passing interest in the subject.'—Bob Holmes, New Scientist

— Bob Holmes
Yale University Press, 9780300196634, 192pp.
Publication Date: October 28, 2014
About the Author
Benny Shilo is professor of molecular genetics at the Weizmann Institute of Science, where he has served in a variety of leadership, research, and teaching roles for over 30 years. He is also a photographer. He lives in Rehovot, Israel.
or
Not Currently Available for Direct Purchase