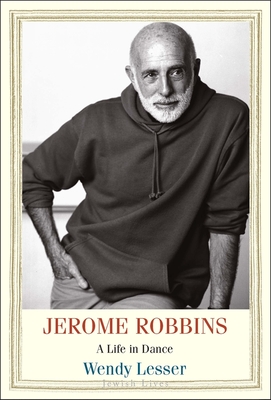 Jerome Robbins
A Life in Dance (Jewish Lives)
Hardcover

* Individual store prices may vary.
Description
From the prizewinning Jewish Lives series, a lively and inspired biography celebrating the centennial of this master choreographer, dancer, and stage director

Jerome Robbins (1918–1998) was born Jerome Wilson Rabinowitz and grew up in Weehawken, New Jersey, where his Russian-Jewish immigrant parents owned the Comfort Corset Company. Robbins, who was drawn to dance at a young age, resisted the idea of joining the family business. In 1936 he began working with Gluck Sandor, who ran a dance group and convinced him to change his name to Jerome Robbins. He went on to become a choreographer and director who worked in ballet, on Broadway, and in film. His stage productions include West Side Story, Peter Pan, and Fiddler on the Roof. In this deft biography, Wendy Lesser presents Jerome Robbins's life through his major dances, providing a sympathetic, detailed portrait of her subject.

About Jewish Lives: 

Jewish Lives is a prizewinning series of interpretative biography designed to explore the many facets of Jewish identity. Individual volumes illuminate the imprint of Jewish figures upon literature, religion, philosophy, politics, cultural and economic life, and the arts and sciences. Subjects are paired with authors to elicit lively, deeply informed books that explore the range and depth of the Jewish experience from antiquity to the present.

In 2014, the Jewish Book Council named Jewish Lives the winner of its Jewish Book of the Year Award, the first series ever to receive this award.

More praise for Jewish Lives:

"Excellent" –New York Times

"Exemplary" –Wall Street Journal

"Distinguished" –New Yorker

"Superb" –The Guardian
Praise For Jerome Robbins: A Life in Dance (Jewish Lives)…
"[Lesser] deftly introduces readers to her complex subject and his many remarkable creative achievements."—Joel Lobenthal, Wall Street Journal

"This brisk biography . . . is light and bright, utterly persuaded by its subject and intoxicatingly in love with movement."—Helen Shaw, New York Times Book Review

"A compact and incisive portrait of the great dancer and choreographer. . . . A breezy and inviting biography."—Kirkus Reviews

"This brief but carefully researched biography (part of the Jewish Lives series) builds a persuasive case for the importance of Jerome Robbins's career as a choreographer . . . . An evenhanded portrait."—Publishers Weekly

"This slim volume . . . drills down to the essential core of a complicated man. . . . In a skillful blend of personal biography and professional profile, Lesser reminds us of Robbins' place in twentieth-century dance and theater and fosters a new appreciation for his legacy."—Booklist

"Jerome Robbins was the quintessential Jewish American genius."—The Forward

"The kind of biography that swallows you whole, an irresistible page-turner with equal parts acute dance criticism, psychological insight, and good old-fashioned theater gossip. No one would ever walk out of Fancy Free; no theater or ballet geek would put this book down midway."—Grace Parazzoli, Santa Fe New Mexican

"Can you separate the art from the artist? Through Robbins's dances, Lesser intelligently and critically examines his work. Her writing inspires an exciting dialogue with the reader—and with Robbins's art and process—that makes you feel up close and inside his dances."—Pam Tanowitz
 

"Wendy Lesser's book is a brief but concentrated look at the excellent and varied work of a complicated artist. Jerome Robbins made some of the best dances in town. Ever in Balanchine's long shadow, he somehow had the chops and the chutzpah to choreograph for the same media (Broadway, movies, and the ballet) and with a similar expertise. This book answers questions I didn't know I had. It is a fascinating and generous point of view."—Mark Morris
 

"Through her own unique lens as a literary critic and writer with a strong appreciation for dance, Wendy Lesser presents a rich, unexpected portrait of Jerome Robbins. Lesser's delicately crafted book is a boon to the study of Robbins and dance criticism."—Emily Coates, Yale University
 
 


Yale University Press, 9780300197594, 216pp.
Publication Date: October 9, 2018
About the Author
Wendy Lesser is the founder and editor of The Threepenny Review and the author of a novel and ten previous books of nonfiction, including the widely acclaimed You Say to Brick: The Life of Louis Kahn. She has written for the New York Times Book Review, the New York Review of Books, the London Review of Books, and other publications.
or
Not Currently Available for Direct Purchase