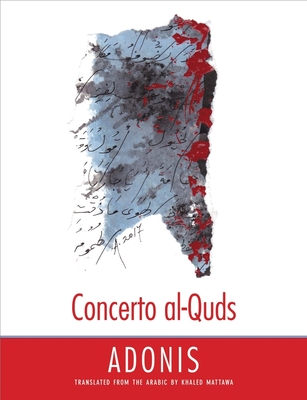 Concerto al-Quds (The Margellos World Republic of Letters)
Hardcover

* Individual store prices may vary.
Description
A cri de cœur or fully imagined poem on the myth and history of Jerusalem/Al-Quds from the author revered as the greatest living Arabic poet

At the age of eighty-six, Adonis, an Arabic poet with Syrian origins, a critic, an essayist, and a devoted secularist, has come out of retirement to pen an extended, innovative poem on Jerusalem/Al-Quds. It is a hymn to a troubled city embattled by the conflicting demands of Jews, Christians, and Muslims. Adonis's city, as a coveted land, ought to suggest the universal love of humanity; as a land of tragedy, a place of contending history and beliefs, and a locus of bitterness, conflict, hatred, rivalry, and blood. Wrapping multiple voices, historical references, and political viewpoints within his ecstatic lyricism, Adonis has created a provocative work of unique beauty and profound wisdom, beautifully rendered in English by award-winning poet Khaled Mattawa.
Praise For Concerto al-Quds (The Margellos World Republic of Letters)…
"The poet's secularist summa, a condemnation of monotheism couched in the form of a surrealist montage . . . It is impossible to read Concerto—the relentlessly high pitch of its language, its emphatic repetitions and violent imagery—without recalling its Old Testament and Quranic models. There is no other modern Arab poet who so successfully conjures the grim beauty of the ancient works even while casting them in forms taken from the twentieth-century avant-garde."—Robyn Creswell, New Yorker

"Concerto al-Quds is likely one of the last collections we shall see from this great poet. Its unique melding of history, surrealism, religion and personal investigation in poetry which refuses to conform to the rhetoric of political statements is a fitting capstone to a career of intense engagement, with the world, with history, the imagination and the written word."—Stephen Delbos, Body

"These sensitively serious reflections imbue us with a much-needed hope."—Jade Cuttle, Magma

"Simultaneously cacophonous and sublime. . . Adonis is a master of poetic orchestration."—Eric Ormsby, TLS

"[A] stunning volume"—Publishers Weekly (starred review)

"Astonishing . . . a portrait both mythic and historical . . . Adonis captures in gorgeously singular language an eternal city now riven."—Barbara Hoffert, Library Journal

"[Adonis] utilizes creative images that leave the reader fascinated both with the beauty of al-Quds and the language that describes it . . . a mythic illustration of this ancient city."—Mohammed Kadalah, World Literature Today

Shortlisted for 2018 Saif Ghobash Banipal Prize for Arabic Literary Translation, sponsored by Banipal Magazine for Modern Arab Literature

"In Concerto al-Quds, the poet Adonis grapples with the ravages of history and the ancient, fractious site known as al-Quds, or Jerusalem. Adonis writes with music in the blood, ferocity of vision, and bristling intelligence. Fueled by serious duende and a powerful sense of urgency, Concerto al-Quds is a monumental work and book of reckoning, masterfully translated by Khaled Mattawa."—Jessica Hagedorn, author of Dogeaters

"This universal concerto as translated by Khaled Mattawa has captured the beauty of the original. It is a beautiful English verse, faithful and sensitive; it is a great service not only to the poetry of Adonis, or Arabic poetry, but to world poetry."—Bassam Frangieh, author of Arabic for Life


Yale University Press, 9780300197648, 96pp.
Publication Date: November 28, 2017
About the Author
Adonis, born Ali Ahmad Sa'id, is a Syrian poet. He has been a leading figure in the modernist movement in Arabic poetry since the mid-twentieth century. He lives in France. Khaled Mattawa is professor of English and Creative Writing at the University of Michigan. He has received a MacArthur grant among many other awards for his writings and translations.
or
Not Currently Available for Direct Purchase