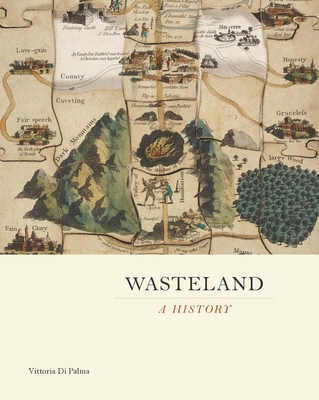 Wasteland
A History
Hardcover

* Individual store prices may vary.
Description
In Wasteland, Vittoria Di Palma takes on the "anti-picturesque," offering an account of landscapes that have traditionally drawn fear and contempt. Di Palma argues that a convergence of beliefs, technologies, institutions, and individuals in 18th-century England resulted in the formulation of cultural attitudes that continue to shape the ways we evaluate landscape today. Staking claims on the aesthetics of disgust, she addresses how emotional response has been central to the development of ideas about nature, beauty, and sublimity. With striking illustrations reaching back to the 1600s—husbandry manuals, radical pamphlets, gardening treatises, maps, and landscape paintings— Wasteland spans the fields of landscape studies, art and architectural history, geography, history, and the history of science and technology. In stirring prose, Di Palma tackles our conceptions of such hostile territories as swamps, mountains, and forests, arguing that they are united not by any essential physical characteristics but by the aversive reactions they inspire.
Praise For Wasteland: A History…
"Vittoria Di Palma has taken on the unconventional challenge of defining a subject that is 'a foil to the notion of an ideal landscape,' and provides a valuable, original, and rigorous assessment of major themes in landscape studies, with sound historical and intellectual reasoning."—Therese O'Malley, Center for Advanced Study in the Visual Arts, National Gallery of Art
— Therese O'Malley

"This is a wonderful book, a history of the senses, and sensibilities, that people have brought to landscape. Vittoria di Palma writes with a terrific combination of critical intelligence and palpable delight in her material."— Jedediah Purdy, Duke University School of Law
— Jedediah Purdy

Winner of the 2015 J.B. Jackson Prize sponsored by the Foundation for Landscape Studies.
— J.B. Jackson

Won an Honorable Mention for the 2015 American Publishers Awards for Professional and Scholarly Excellence (PROSE) in the Architecture and Urban Planning category.
— PROSE

Winner of the 2014-15 Louis Gottschalk Prize, given by the American Society for Eighteenth-Century Studies.
— Louis Gottschalk Prize

"Di Palma's work, which conjoins the resources of art history, landscape and garden studies, the history of science, and more disciplines still, is a scholarly tour-de-force that synthesizes disparate studies of subjects ranging from land enclosure to the sublime in order to shed new light on the prehistory of our current ecological challenges…. Beautifully illustrated and evocatively written, Wasteland: A History is an original, informative, and elegant piece of scholarship that develops strong and surprising connections between aesthetic values and moral debates about land use. Ranging freely between numerous disciplines, Vittoria Di Palma shows how the concept of the wasteland has long and diversely shaped what has now become, for better and for worse, our industrial modernity."—American Society for Eighteenth-Century Studies

— American Society for Eighteenth-Century Studies

Winner of the 2016 Elisabeth Blair MacDougall Award sponsored by the Society of Architectural Historians.
— Elisabeth Blair MacDougall Award

"Every now and then, a gifted scholar produces a book that simultaneously reimagines some broad dimension of everyday life in the early modern British world and situates the telling of that experience in the physicality of material culture....All scholars of the early modern British world should read this book."
—Louis P. Nelson
— Louis P. Nelson

"Wasteland: A History is a major achievement: meticulously researched, theoretically nuanced, and written in lucid, sensitive prose."
—Izabel Gass
— Izabel Gass

Winner of the 2016 Herbert Baxter Adams Prize given by the American Historical Association.
— Herbert Baxter Adams Prize

"This brilliantly conceived and elegantly written book draws on an array of disciplines to examine the neglected concept of wasteland since the early modern period. Understanding wasteland as a counterpart to wilderness and developed space, Di Palma sensitively depicts the tension between aesthetic responses to the landscape and the rationalizing pressures of advancing central state power and new survey techniques, set in the context of agricultural improvement and changing market relations." –American Historical Association
— American Historical Association
Yale University Press, 9780300197792, 280pp.
Publication Date: August 26, 2014
About the Author
Vittoria Di Palma is assistant professor in the School of Architecture of the University of Southern California.
 
or
Not Currently Available for Direct Purchase