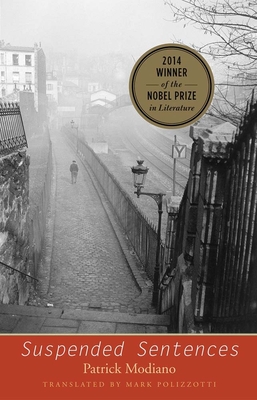 Suspended Sentences
Three Novellas (The Margellos World Republic of Letters)
Paperback

* Individual store prices may vary.
Other Editions of This Title:
Digital Audiobook (12/15/2014)
Compact Disc (12/16/2014)
MP3 CD (12/16/2014)
Compact Disc (12/16/2014)
Description
"Elegant. Unpretentious. Approachable. . . . He is, all in all, quite an endearing Nobelist."—Michael Dirda, Washington Post
 
"Modiano is a pure original."—Adam Thirlwell, The Guardian
 
"A fine introduction to Modiano's later work."—The Economist
 
"These novellas have a mood. They cast a spell."—Dwight Garner, New York Times
 
In this essential trilogy of novellas by the winner of the 2014 Nobel Prize in Literature, French author Patrick Modiano reaches back in time, opening the corridors of memory and exploring the mysteries to be encountered there. Each novella in the volume--Afterimage, Suspended Sentences, and Flowers of Ruin—represents a sterling example of the author's originality and appeal, while Mark Polizzotti's superb English-language translations capture not only Modiano's distinctive narrative voice but also the matchless grace and spare beauty of his prose.
 
Although originally published separately, Modiano's three novellas form a single, compelling whole, haunted by the same gauzy sense of place and characters. Modiano draws on his own experiences, blended with the real or invented stories of others, to present a dreamlike autobiography that is also the biography of a place. Orphaned children, mysterious parents, forgotten friends, enigmatic strangers—each appears in this three-part love song to a Paris that no longer exists.
 
Shadowed by the dark period of the Nazi Occupation, these novellas reveal Modiano's fascination with the lost, obscure, or mysterious: a young person's confusion over adult behavior; the repercussions of a chance encounter; the search for a missing father; the aftershock of a fatal affair. To read Modiano's trilogy is to enter his world of uncertainties and the almost accidental way in which people find their fates.
Praise For Suspended Sentences: Three Novellas (The Margellos World Republic of Letters)…
"Vividly translated by Mark Polizzotti . . . [and] as good a place as any to enter the long, slow-moving river of Modiano's fiction."—Alan Riding, New York Times Book Review

"Elegant . . . quietly unpretentious, approachable. . . . Though enigmatic and open-ended, Modiano's remembrances of things past and his probings of personal identity are presented with a surprisingly light touch. He is, all in all, quite an endearing Nobelist."—Michael Dirda, Washington Post

"A timely glimpse at [Modiano's] fixations . . . . In Mark Polizzotti's spare and elegant translation, the writing conveys a sense of dreamy unease in which the real, the hypothesized, and the half-forgotten blend into a shimmering vagueness."—Sam Sacks, Wall Street Journal

"Mr. Modiano writes clear, languid, and urbane sentences in Mr. Polizzotti's agile translation . . . . These novellas have a mood. They cast a spell."—Dwight Garner, New York Times

"An excellent place to begin. . . . Here is the bracing darkness at the heart of Modiano's vision of memory and modern day Paris, . . . a traveling back to travel forward, a journey these novellas pace with the elegance of a solitary walker, moving through a city's streets, his collar up against the cold."—John Freeman, Boston Globe

"The three novellas that make up Suspended Sentences offer a fine introduction to Modiano's later work."—The Economist

"Modiano is a pure original. He has transformed the novel into a laboratory for producing atmospheres, not situations—where everything must be inferred and nothing can be proved."—Adam Thirlwell, The Guardian

"A series of meditations on the mutability of memory . . . [that] accumulates force quietly and veers without warning into the dark precincts of Modiano's life. . . . The writing, translated crisply by Mark Polizzotti, is laced with investigations and speculations, false leads and dead ends."—Bill Morris, Daily Beast

"These three atmospheric novellas demonstrate the range of reading pleasure afforded by Modiano's approach and the dark romance of his Paris. . . . Each first-person novella is also a portrait of the artist."—Publishers Weekly

"Haunting. . . . Modiano combines a detective's curiosity with an elegist's melancholy."—Adam Kirsch, New Republic

"[A] trilogy of novellas from the recent French Nobel Prize winner. . . . Fictions with a moral bite, depicting a world in which everyone, it seems, is complicit in crimes not yet specified. Moody, elegant and dour."—Kirkus Reviews (starred review)

"The three novellas that make up this exquisite collection are mysteries, albeit mysteries of an existential sort."—David L. Ulin, Los Angeles Times

"Compelling. . . . Haunting. . . . Modiano's unconventional accounts of vanished hours show how the urge to solve a long-lost crime, or to reclaim forgotten memories, ultimately leads to inscrutable vanishing points."—Scott Esposito, San Francisco Chronicle

"Brilliant."—New York Magazine "Approval Matrix"

"Mesmerizing . . . evocative and nostalgic. . . . These are stories that continue to haunt, even after the final page. . . . For English-language readers, this collection serves as the discovery of a unique, masterful writer."—Gila Wertheimer, Chicago Jewish Star

"[A] welcome translation . . . [Modiano's] stories include suspenseful passages and are invariably absorbing . . . and offer much to ponder as one proceeds."—John Taylor, Arts Fuse

"Beautiful and fascinating."—M.A. Orthofer, Complete Review

"Striking and poignant."—Kacy Muir, Weekender

"The voice of the narrator is clear and melodious . . . [as] three novellas progressively introduce the reader to the bifocal world of Modiano's evocatively detailed but fragmented memory. Imagine a concert that starts with a sonata, is followed by a quartet, and ends with a full symphony."—Marianne Veron, Moment Magazine

"The three novellas in this book show a consistent, inherently logical artistic vision—a sign of a great writer. Modiano's sadness, expressed in his sparseness of style and in obsessive leitmotif connections, is unique."—Aleksandar Hemon, The Week

"The three novellas in Suspended Sentences offer a vivid glimpse into Modiano's photographic remembrance of things past."—Brandon Ambrosino, Vox

"Like [W.G.] Sebald, Modiano blends fact and fiction, memoir and reportage . . . obsessed with unearthing lives buried under the avalanche of time."—Ryu Spaeth, The Week

"A hauntingly beautiful reminder of the power and resonance memory has on our daily lives . . . a brilliant collection . . . [Modiano] is a masterful writer, storyteller, and philosopher all rolled into one and Suspended Sentences confirms it."—Henry Solotaroff-Webber, Daily Cardinal (Madison, Wisconsin)

"A lovely, supple book . . . compelling."—Nathan Leslie, Prick of the Spindle: A Journal of the Literary Arts

"Skillfully translated by Mark Polizzotti. . . . Comparing the English with the French original, one finds the same limpid quality in both."—Karen McPherson, Translation Review

Patrick Modiano is the winner of the 2014 Nobel Prize in Literature

"Reading Modiano is like experiencing a very specific flavor you don't encounter every day—saffron or asafetida, say. He's direct and precise, but also gently melancholy, like the squeezed essence of passing time. Mark Polizzotti's translation expertly catches the timbre of his voice."—Luc Sante

"Haunting. Like a master perfumer, Nobel Prize winner Patrick Modiano has crafted a signature scent: his unmistakable blend of nostalgia, grief, love, disquiet, Paris. In any translation, exotic décor comes easy but to capture the atmosphere of the words is much harder — Polizzotti succeeds beautifully in creating the impalpable magic of Modiano's world in English."—Damion Searls

"Completely, insouciantly, Modiano describes the interiors and essential matter of the French literary imagination. In these fictions, the sworn bewilderment of intimacy as cause and quest and actual topography of narrative becomes an inexhaustible source. And from that source there flows a riverine voice of legends and documentary legerdemain: always candid, always fitly perplexed. In the three novellas gathered as Suspended Sentences, this voice elapses across Paris as it never was, yet somehow must have been. Otherwise, there could be no accounting for acrobats, for Edith Piaf, for collaboration and liberation and the spring of 1968. All of these and more Modiano addresses with a luminous bewilderment more intimately exacting and more precise than any certainty could be."—Donald Revell, Author of Pennyweight Windows: New & Selected Poems

"The three novellas included in this volume by this year's Nobel Prize winner Patrick Modiano offer eloquent testimony to the writer's remarkable gift for evoking the power of the past over human lives and destinies, and the ephemeral and ultimately mysterious nature of human relationships. They also capture Modiano's unrivaled ability to describe in limpid and haunting prose the power of a place, Paris, and to make its history and geography come alive in new and unexpected ways. Beautifully translated by Mark Polizzotti, this small volume will familiarize Anglophone readers with the talent and genius of France's best- kept literary secret."—Richard J. Golsan, Texas A&M University

"The Nobel Prize committee's abrupt elevation of Patrick Modiano to international prominence makes the publication of these three works particularly valuable; not only has very little of the author's work appeared in English, but Mark Polizzotti's long experience as editor, publisher, and translator, together with his truly astonishing familiarity with the French language, has advantageously equipped him to execute his finely-tuned English renderings of these discreetly complex texts. Modiano belongs to one of the great traditions of French fiction, inaugurated by Madame de Lafayette's The Princess of Cleves, continued (this is a very short list) in Marivaux's novels, later in Laclos's Dangerous Liaisons and Flaubert's Three Tales and ASentimental Education, in the 20th century variously developed by its three great Raymonds – Radiguet, Roussel, and Queneau – and, greatest of all, Marcel Proust, and in our own time flourishing anew in the pages of Patrick Modiano and Jean Echenoz. To the thousands of French readers of Modiano, declaring him a great writer is obvious, necessary, and inexplicable: he and his tradition depend on intimacy, precision, and a ruthless avoidance of reassuring conclusions – that is, modest qualities. Modiano's tales are mostly centered on life in outlying parts of Paris during and after World War II; place and time are rendered with alluring exactness, as are their fugitive inhabitants, and all are then inevitably lost in a blur of evanescent clues that leave nothing but an hallucinatory melancholy behind: a melancholy that enchants a rediscovered world with mysterious, hopeless magic. Modiano has said of his work, "I have always felt that I've been writing the same book for the past 45 years"; but each novel is unflaggingly fresh, with writing of exemplary purity, depending on nothing but itself for the reality it creates. Now, with Suspended Sentences in hand, you can enter this hauntingly vivid new world. I strongly urge you not to let the opportunity pass you by."—Harry Mathews


Yale University Press, 9780300198058, 232pp.
Publication Date: November 11, 2014
About the Author
Patrick Modiano is a best-selling novelist and the winner of some of the most prestigious literary awards in France, including the Prix Goncourt and the Prix mondial Cino Del Duca for lifetime achievement. In 2014 he was awarded the Nobel Prize in Literature for "the art of memory with which he has evoked the most ungraspable human destinies and uncovered the life-world of the occupation." Mark Polizzotti has translated more than forty books from the French and is director of the publications program at The Metropolitan Museum of Art, New York.