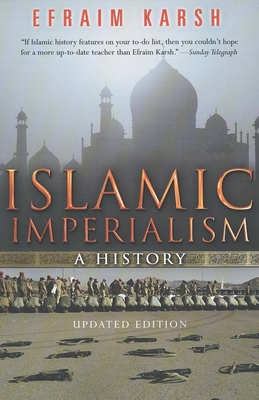 Islamic Imperialism
A History
Paperback

* Individual store prices may vary.
Other Editions of This Title:
Paperback (5/1/2007)
Hardcover (4/1/2006)
Description
A fundamental challenge to the way we understand the history of the Middle East and the role of Islam in the region

From the first Arab-Islamic Empire of the mid-seventh century to the Ottomans, the last great Muslim empire, the story of the Middle East has been the story of the rise and fall of universal empires and, no less important, of imperialist dreams. So argues Efraim Karsh in this highly provocative book. Rejecting the conventional Western interpretation of Middle Eastern history as an offshoot of global power politics, Karsh contends that the region's experience is the culmination of long-existing indigenous trends, passions, and patterns of behavior, and that foremost among these is Islam's millenarian imperial tradition.
The author explores the history of Islam's imperialism and the persistence of the Ottoman imperialist dream that outlasted World War I to haunt Islamic and Middle Eastern politics to the present day. September 11 can be seen as simply the latest expression of this dream, and such attacks have little to do with U.S. international behavior or policy in the Middle East, says Karsh. The House of Islam's war for world mastery is traditional, indeed venerable, and it is a quest that is far from over.
Praise For Islamic Imperialism: A History…
"In Islamic Imperialism Efraim Karsh argues for the existence of an Islamic imperial drive and traces it from Muhammad's time to current Islamist aggressions. One can hardly imagine a thesis with larger implications for prosecuting the war on terror."—Daniel Pipes


— Daniel Pipes


"Only a shrewd and talented revisionist, a professor with curiosity and nerve, could take on the clichés of Middle East scholarship and insist that they be reconsidered. That describes Efraim Karsh, a much-published and much-admired professor at the University of London. His new book, Islamic Imperialism deserves serious consideration by anyone who cares about this debate. He challenges not only our favourite ideas about the Middle East but even our notions of imperialism. . . . Karsh's view of rising Islamic imperialism chills the blood. Multiculturalism looks different through the lens of his scholarship, and so does the future for global politics."—Robert Fulford, Canada National Post

— Robert Fulford

"Karsh's lively, clearly written and well-researched account should have an appeal beyond an academic audience. The crisp manner with which he disposes of accepted wisdom will delight the reader. And in laying to rest the victim theory, he restores a measure of dignity to the Middle East."—Ralph Amelan, Jerusalem Post

— Ralph Amelan
Yale University Press, 9780300198171, 304pp.
Publication Date: September 24, 2013
About the Author

Efraim Karsh is professor and head of the Mediterranean Studies Programme, King's College, University of London.