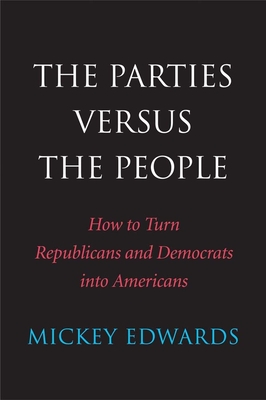 The Parties Versus the People
How to Turn Republicans and Democrats into Americans
Paperback

* Individual store prices may vary.
Other Editions of This Title:
Hardcover (8/27/2012)
Description
A penetrating analysis of American democracy's most urgent threat: a political system so paralyzed by partisanship it is almost incapable of placing national interest ahead of the blind pursuit of political advantage

America's political system is dysfunctional. While this is a widely held view, it is a problem that—so far—has proved intractable. After every election, voters discover yet again that political "leaders" are simply quarreling in a never-ending battle between the two warring tribes, the Republicans and Democrats. In this critically important book, a distinguished statesman and thinker identifies exactly how our political and governing systems reward intransigence, discourage compromise, and undermine our democracy. He then describes exactly what must be done to banish the negative effects of partisan warfare from our political system.
As a former congressman, Mickey Edwards witnessed firsthand how important legislative battles can devolve into struggles not over principle but over party advantage. He offers graphic examples of how this problem has intensified and reveals how political battles have become nothing more than conflicts between party machines. Edwards's solutions—specific, practical, fair, and original—show the way to break the stranglehold of the political party system. The Parties Versus the People offers hope for a fundamental renewal of American democracy.
Praise For The Parties Versus the People: How to Turn Republicans and Democrats into Americans…
"Many Americans, whether Democrats, Republicans, independent or otherwise, would welcome a few more like (Edwards) in office."—
The Boston Globe
"An urgent and engaging look at how American politics have become the founding fathers' worst nightmare. Not content to simply criticize, Edwards also proposes solutions to the hyperpartisanship currently corroding civil discourse and resulting in the paralysis of Congress, a serious threat to the American experiment in self-governance. . . . An important—and I believe, enduring—addition to the growing literature of nonpartisan political reform."—John Avlon,
Daily Beast
"Frustration with bipartisan politics is given lucid voice and direction in former congressman Edwards's latest: an examination of how the nation can move past party affiliation in order to move forward...The book provides compelling hope for reform."—Publishers Weekly


"A spirited, well-constructed argument for reform that does not shy away from comprehensive solutions."—Kirkus Reviews
"In
The Parties Versus the People
, Mr. Edwards gets to the heart of what most troubles Americans about our government today. Nothing gets done, our elected representatives play the blame game, and the operative word is gridlock. . . . a well-written, thoughtful and timely book."—
The Washington Times
"Edwards' prescriptions to rescue our democracy loom large . . . short of the structural changes Edwards embraces, dysfunction and stalemate seem the more likely scenarios regardless of who wins the Obama-Romney prize fight."—
Small "r" Republican
"Mr. Edwards writes persuasively that the two political parties have overtaken our electoral system, leading to the current era of partisan demagoguery (and) lays out a better system that is worth a serious look."—
St. Louis Post-Dispatch
"Edwards proposes serious, fundamental, specific reforms to turn our political system upside down and put power back in the hands of the American people."—
The Recovering Politician
". . . a compelling . . . case that much of the gridlock, intransigence, incivility and dysfunction plaguing government can be traced directly to the domineering, partisan control over both the political process – how we elect our leaders – and the governmental process – how they govern. . . . (Edwards) proposes thought-provoking, controversial, and intellectually sound solutions that deserve a full public airing in every corner of the public square . . ."—NewGOPForum.com
"Edwards' solutions – specific, practical, fair, and original – show the way to break the stranglehold of the political party system."—
Stone Hearth News
"Overcoming tribalism and knee-jerk partisanship is the central challenge of our time. Mickey Edwards shows why and how in this fascinating book filled with sensible suggestions."—Walter Isaacson, author of Steve Jobs
"Always thought provoking, in The Parties Versus the People, Mickey Edwards has laid out a challenge to the American people to address the polarization that is so damaging to our political process. Rather than just identifying problems, the author outlines steps that can help right the ship of state. It remains to the voters to accept the challenge he has laid out."—Christine Todd Whitman, former New Jersey Governor and EPA Administrator
"A lucid, important, powerful set of reforms and recommendations for improving the political process."—Marvin Kalb, co-author of Haunting Legacy: Vietnam and the American Presidency from Ford to Obama

"Mickey Edwards has made a clear headed and timely contribution to helping America lead itself out of a polarized political swamp. He anchors his book with the political reality that democratic self-governance comes from mutual respect, the energy of ideas and ultimately consensus. Democracies cannot work any other way. Our citizens, not just our leaders, would greatly benefit from reading Edwards' important book."—Chuck Hagel, U.S. Senator (1997 – 2009); Distinguished Professor, Georgetown University

"America faces great challenges in a rapidly changing, increasingly competitive world.  Regrettably, hyper-partisanship and polarization have created gridlock, threatening this generation's legacy and imperiling our children's' future. Mickey Edwards performs a great public service by identifying not only the problem but also proposing possible solutions.  Let us hope that our fellow citizens heed his call and begin once more to define ourselves principally not as Democrats or Republicans, liberals or conservatives, but as Americans with a common heritage and a common destiny."—Evan Bayh, U.S. Senator (1999-2011)



Yale University Press, 9780300198218, 240pp.
Publication Date: August 13, 2013
About the Author

Mickey Edwards, a congressman for sixteen years and a faculty member at Harvard and Princeton for the subsequent sixteen years, is a vice president of the Aspen Institute.
or
Not Currently Available for Direct Purchase