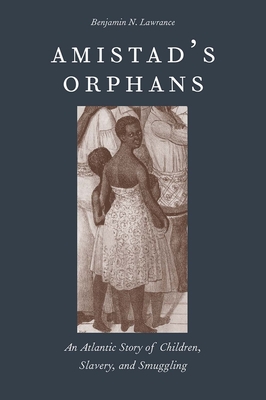 Amistad's Orphans
An Atlantic Story of Children, Slavery, and Smuggling
Hardcover

* Individual store prices may vary.
Description
The lives of six African children, ages nine to sixteen, were forever altered by the revolt aboard the Cuban schooner La Amistad in 1839. Like their adult companions, all were captured in Africa and illegally sold as slaves. In this fascinating revisionist history, Benjamin N. Lawrance reconstructs six entwined stories and brings them to the forefront of the Amistad conflict. Through eyewitness testimonies, court records, and the children's own letters, Lawrance recounts how their lives were inextricably interwoven by the historic drama, and casts new light on illegal nineteenth-century transatlantic slave smuggling.
Praise For Amistad's Orphans: An Atlantic Story of Children, Slavery, and Smuggling…
"In the recent commemorations of the bicentennial of the abolition of the transatlantic slave trade, two facts were frequently lost:  first, that the trade did not actually end, but continued for more than a half a century; and second, that a growing proportion of those trafficked were children.  In this searching, searing book, Lawrance explores these twin facts through a close examination of the lives of six children rescued from the Amistad.  In the process, he challenges us to think anew not only about slavery and abolition but also about the meaning of childhood, family, and freedom."—James T. Campbell, Stanford University
— James T. Campbell
"Lawrance brilliantly analyzes the extensive documentation left by the surviving 'orphans' of the Amistad who were returned to Sierra Leone to expose the tragic alienation that slavery thrust on the victims of the trans-Atlantic slave trade."—Paul E. Lovejoy, York University, Toronto
— Paul E. Lovejoy
"This important book is mandatory reading for all scholars interested in the history of childhood, the Amistad, and the Atlantic slave trade . . . Essential."?
Choice
— Choice
Yale University Press, 9780300198454, 376pp.
Publication Date: January 27, 2015
About the Author
Benjamin N. Lawrance is the Hon. Barber B. Conable Jr. Endowed Chair in International Studies at the Rochester Institute of Technology.
or
Not Currently Available for Direct Purchase