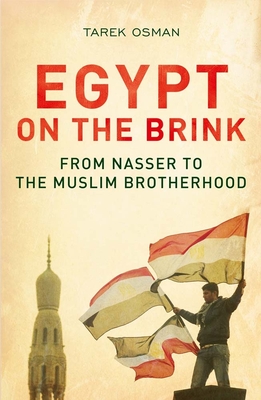 Egypt on the Brink (Paperback)
From Nasser to the Muslim Brotherhood, Revised and Updated
Yale University Press, 9780300198690, 328pp.
Publication Date: September 24, 2013
Other Editions of This Title:
Paperback (9/1/2011)
Paperback (1/1/2011)
* Individual store prices may vary.
Description
A lively and informed account of Egypt's recent history and current situation

In this immensely readable and thoroughly researched book, Tarek Osman explores what has happened to the biggest Arab nation since President Nasser took control of the country in 1954. This new edition takes events up to summer 2013, looking at how Egypt has become increasingly divided under its new Islamist government.
About the Author
Tarek Osman published his prescient and internationally best-selling book Egypt on the Brink with Yale University Press weeks before Egypt's 2011 uprising. He has appeared as a commentator on most major international news networks and is a regular contributor on the Arab world and Islamism for many leading newspapers and magazines worldwide. He wrote and presented the BBC documentary series 'The Making of the Modern Arab World' (2013) and 'Sands of Time: A History of Saudi Arabia' (2015), and is the political counsellor for the Arab world at the European Bank for Reconstruction and Development (EBRD). Tarek has sixteen years' experience in political-economy advisory, strategy consulting and investment banking and management.
Praise For Egypt on the Brink: From Nasser to the Muslim Brotherhood, Revised and Updated…
"Short, readable, clear, and passionately written. A good introduction to Egypt's story."—Boston Globe
"Tarek Osman, a Western-educated Egyptian banker and occasional columnist, brings the eye of an intelligent amateur to the story of this country's past half century. He writes with feeling, backed up by an impressively broad list of sources as well as sharp critical insight and astute judgement."—The Economist
"Osman writes with a focused and uncluttered style [which will] retain the interest of even the most general reader."—Joyce Tyldesley, Financial Times
"Strange, then, that despite continued fascination with ancient Egypt, so little aside from turgid academic tomes or breathless journalistic accounts has been published about the current condition of the most populous country in the turbulent Middle East, and among the most influential. Egypt on the Brink is a slim book, simply written and easy to understand, and it goes a long way to filling this void. . . . The author, Tarek Osman, a Western-educated Egyptian banker and occasional columnist, brings the eye of an intelligent amateur to the story of his country's past half-century. He writes with feeling, backed up by an impressively broad list of sources as well as sharp critical insight and astute judgment."—The Economist
"Osman paints a colourful and convincing picture of the decline of Mubarak's rule. . . . A compelling account of how the various combustile ingredients of revolution came together, awaiting the final spark."—Gerald Butt, Times Literary Supplement
"Osman delivers textured historical context . . . and he focuses analysis more accurately than most current pundits."—Carlin Romano, The Chronicle of Higher Education
"Published a short time before thousands of Egyptians began pouring into Cairo's Tahrir Square, Egypt on the Brink is a timely account of Egypt near the end of the 30-year Mubarak era. It is presented thematically, rather than chronologically, and one of the most intriguing themes is the notion that whereas Egypt in the age of liberal nationalism (the 1920s and 1930s) and the Nasser years (1952-70) had a regional standing and a sense of national purpose, Hosni Mubarak's regime lost both this standing and this purpose as it devolved into a dreary despotism. Yet Osman writes with neither nostalgia nor disdain. Separate chapters discuss the Islamists, the Christians, the rise of liberal capitalism, and Egypt's youth. Even the conclusion, which speculates on who and what regime would replace Mubarak, now overtaken by events, offers useful thoughts on Egypt's distinctive politics."—L. Carl Brown, Foreign Affairs
"It is hard to imagine a timelier book than Egypt on the Brink . . . an elegantly written and insightful analysis of the fissures and discontents of contemporary Egypt."—James Jankowski, Middle East Journal
or
Not Currently Available for Direct Purchase