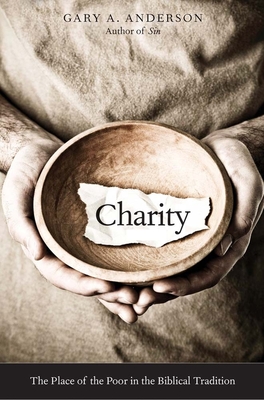 Charity
The Place of the Poor in the Biblical Tradition
Paperback

* Individual store prices may vary.
Other Editions of This Title:
Hardcover (8/27/2013)
Description
A leading biblical scholar places charity back at the heart of the Judeo-Christian tradition, arguing for its biblical roots

It has long been acknowledged that Jews and Christians distinguished themselves through charity to the poor. Though ancient Greeks and Romans were also generous, they funded theaters and baths rather than poorhouses and orphanages. How might we explain this difference? In this significant reappraisal of charity in the biblical tradition, Gary Anderson argues that the poor constituted the privileged place where Jews and Christians met God. Though concerns for social justice were not unknown to early Jews and Christians, the poor achieved the importance they did primarily because they were thought to be "living altars," a place to make a sacrifice, a loan to God that he, as the ultimate guarantor, could be trusted to repay in turn. Contrary to the assertions of Reformation and modern critiques, belief in a heavenly treasury was not just about self-interest. Sifting through biblical and postbiblical texts, Anderson shows how charity affirms the goodness of the created order; the world was created through charity and therefore rewards it.
Praise For Charity: The Place of the Poor in the Biblical Tradition…
"The award-winning author of Sin: A History provides another must-read for lay reader and scholar alike."—Publishers Weekly, starred review
"Ambitious . . . formidable . . . remarkably lucid."—Greg Carey, Christian Century


"Unquestionably learned [and] insightful. . . . An encouraging work of interreligious scholarship."—John P. Langan, America

"Wide-ranging and engaging."—Matthew L. Skinner, Christian Century

"Of interest to a wide range of readers . . . intellectually rich . . . engaging . . . [an] expert and stimulating work."—Timothy J. Sandoval, Review of Biblical Literature

". . . Most engaging book both for Jewish-Christian and Roman Catholic-Protestant biblical and theological dialogue. It evinces engaged and laudable wrestling with biblical theology. The book is challenging and charming, full of riches that do profit. If you liked Sin, you will love Charity."—Bonnie Thurston, Catholic Biblical Quarterly

"Anderson brings previously neglected Second Temple texts into the conversation, and provides readers with a rich reminder of Rabbinic contributions to what will become an important Christian practice."—Brenda Llewellyn Ihssen, Modern Theology

Won an Award of Merit for the 2014 Christianity Today Book Award competition in the category of Biblical Studies

Named one of the 10 Best Religion Books of 2013 by Religion News Service

Finalist for the 2014 American Academy of Religion Awards for Excellence in the Study of Religion, in the textual studies category

"Gary Anderson brilliantly illuminates the true place of almsgiving in the biblical and post-biblical tradition. His extraordinary, bold book changes entire fields of Christian theology and biblical scholarship once and for all."—Matthew Levering, University of Dayton

"Characteristically learned and wide-ranging, this book is a fascinating and timely call to revisit inherited assumptions about the sacramental connection between grace and charity."— Markus Bockmuehl, University of Oxford

"Accessible, engaging, yet impressively learned, Charity will reward a wide range of readers—religious and secular, Jewish and Christian, scholarly and lay alike. Enthusiastically recommended!"—Jon D. Levenson, Harvard University


Yale University Press, 9780300198836, 232pp.
Publication Date: November 25, 2014
About the Author
Gary A. Anderson is Hesburgh Professor of Catholic Theology, University of Notre Dame. He lives in South Bend, IN.