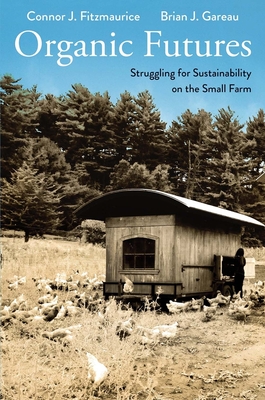 Organic Futures
Struggling for Sustainability on the Small Farm (Yale Agrarian Studies Series)
Hardcover

* Individual store prices may vary.
Description
An exploration of the lived experience of small-scale organic farmers in New England that unpacks how they balance their ideals with economic realities

In recent years, the popularity of organically grown produce has exploded. In 2014, organic fruits and vegetables accounted for 12% of all produce sales in the United States, with $39 billion in consumer sales reported for 2015. As a federally recognized niche market within the agricultural mainstream, organic farming is increasingly on display in American grocery stores. Yet the organic food most Americans consume today is produced by an industrial food system at odds with the practices and ideals of small-scale farmers. Taking an ethnographic approach, the fieldwork by Connor Fitzmaurice and Brian Gareau at a small New England organic farm sheds light on how farmers navigate the difficult terrain between practices of sustainability and the economic realities of contemporary agriculture. Drawing on extensive research, Fitzmaurice and Gareau examine the historical context, complexities, and viability of nonconventional organic farming practices: practices that seek to balance ecology and community with the business of agriculture.
Praise For Organic Futures: Struggling for Sustainability on the Small Farm (Yale Agrarian Studies Series)…
"This is some of the best text I've read on the evolution of organic agriculture in the U.S. By explaining the critical theories and placing a 'real' farm within these constructs, the authors provide an important analysis of a current topic missing from the literature."—Leslie A. Duram, author of Good Growing: Why Organic Farming Works
— Leslie A. Duram
"A brilliant and readable discussion of the shift to, and struggle over, organics generally, and how it is experienced on one New England farm."—Michael Goldman, author of Imperial Nature: The World Bank and Struggles for Social Justice in the Age of Globalization
— Michael Goldman
"Fitzmaurice and Gareau have achieved a solid ethnography of an organic farm in New England. An original contribution to the literature on the challenges and opportunities of organic farming."—Molly D. Anderson, Middlebury College
— Molly D. Anderson
"Fitzmaurice and Gareau provide a long overdue engagement of the new relational approach in economic sociology with the topic of organic farming. Centered on a fascinating case study of a small New England family farm, they show how this expanding sector cannot be understood without attention to relational and moral concerns. A must-read for anyone interested in food, agriculture or economic sociology."—Juliet Schor, author of Plenitude: The New Economics of True Wealth
— Juliet Schor
Yale University Press, 9780300199451, 320pp.
Publication Date: October 25, 2016
About the Author
Connor J. Fitzmaurice is a Ph.D. candidate in the Department of Sociology at Boston University. Brian J. Gareau is associate professor of sociology and international studies at Boston College.
or
Not Currently Available for Direct Purchase