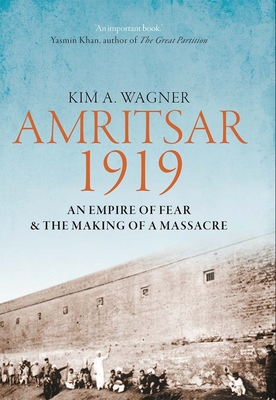 Amritsar 1919 (Hardcover)
An Empire of Fear and the Making of a Massacre
Yale University Press, 9780300200355, 360pp.
Publication Date: March 26, 2019
Other Editions of This Title:
Paperback (2/4/2020)
* Individual store prices may vary.
Description
A powerful reassessment of a seminal moment in the history of India and the British Empire—the Amritsar Massacre—to mark its 100th anniversary

The Amritsar Massacre of 1919 was a seminal moment in the history of the British Empire, yet it remains poorly understood. In this dramatic account, Kim A. Wagner details the perspectives of ordinary people and argues that General Dyer's order to open fire at Jallianwalla Bagh was an act of fear. Situating the massacre within the "deep" context of British colonial mentality and the local dynamics of Indian nationalism, Wagner provides a genuinely nuanced approach to the bloody history of the British Empire.
About the Author
Kim A. Wagner teaches global and British imperial history at Queen Mary University of London. His books include The Skull of Alum Bheg,The Great Fear of 1857, and Thuggee.
Praise For Amritsar 1919: An Empire of Fear and the Making of a Massacre…
"Mr Wagner argues his case fluently and rigorously in this excellent book. The centenary would be as good a time as any to apologise for Amritsar. In Mr Wagner's telling, such contrition might apply to many other acts of cruelty and violence visited upon Britannia's imperial subjects." —The Economist
"The hideous story of Jallianwala Bagh has been told often and well, notably by Nigel Collett in The Butcher of Amritsar. Yet no one has told it quite like Wagner, a professor at Queen Mary University of London. He calls his book "a microhistory of a global event", and he is true to his word. Local events from March 30 to April 30, 1919 are examined and parsed into a narrative as he assembles an elaborate forensic jigsaw. In less skilled hands this spare-no-detail approach might well have suffocated readers, but the book is written with a humane commitment to the truth that will impress." — Tunku Varadarajan, The Times
"Kim Wagner [. . .] skilfully maps a tale of growing tensions, precipitate action, and troubled aftermath." —Andrew Lycett, The Telegraph
"A compelling account" — Tony Barber, Financial Times
"Amritsar 1919 chronicles the run up to Jallianwala Bagh with spellbinding, almost minute-by-minute focus. . . . Mr. Wagner's achievement is one of balance—of minutiae and sweep and, above, all, of perspective. E. M. Forster observed in A Passage to India (1924): 'It is impossible to regard a tragedy from two points of view.' Mr. Wagner does so without sacrificing moral clarity or verve."—Maxwell Carter, Wall Street Journal
"Wagner's postmortem of an imperial disaster should be widely read."— R.A. Callahan, emeritus, Choice
"A vivid, finely researched account of the Amritsar massacre which will be of great interest to both specialist and general readers alike. It is also an important book for our postcolonial world more generally."—Yasmin Khan, author of The Great Partition
"The fullest, and by far the most authoritative, account of the causes and course of the Jallianwala massacre in any language. Wagner's exposition of the way fear caused an event that started the unravelling of the Raj will take its place as the definitive version of a story hitherto capable of controversy, but now finally exposed in its full, undeniable horror.  This is now the standard work."—Nigel Collett, author of The Butcher of Amritsar
"In this compelling yet exacting study, Kim Wagner combines the intimacy of the storyteller and the distance of the historian to evoke the 'microhistory' of the massacre while understanding it as the 'final stage of a much longer process', stretching back to the Sepoy Uprising. Mining a variety of sources – diaries, memoirs and court testimonies - he uncovers fresh perspectives and examines the relation between colonial panic and state brutality with sophistication, sincerity and style rare in published accounts of this much-trodden ground."—Santanu Das, author of India, Empire, and First World War Culture
"In the cautionary tale provided in Amritsar 1919, it is enduring racist fear that lies at the heart of precipitate violence. Analytically sharp but gripping to read, the book is a page-turner"—Barbara D. Metcalf, co-author of A Concise History of India