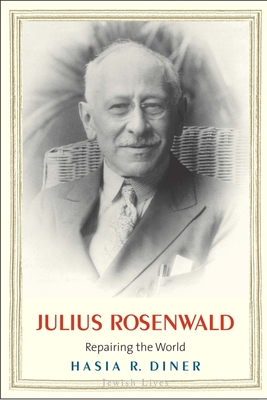 Julius Rosenwald
Repairing the World (Jewish Lives)
Hardcover

* Individual store prices may vary.
Description
From the prizewinning Jewish Lives series, a portrait Julius Rosenwald—a humble retail magnate whose visionary ideas about charitable giving transformed the practice of philanthropy in America and beyond

Winner of the gold medal in the 2019 Axiom book awards, Memoir / Biography category

Julius Rosenwald (1862–1932) rose from modest means as the son of a peddler to meteoric wealth at the helm of Sears, Roebuck. Yet his most important legacy stands not upon his business acumen but on the pioneering changes he introduced to the practice of philanthropy. While few now recall Rosenwald's name—he refused to have it attached to the buildings, projects, or endowments he supported—his passionate support of Jewish and African American causes continues to influence lives to this day.
 
This biography of Julius Rosenwald explores his attitudes toward his own wealth and his distinct ideas about philanthropy, positing an intimate connection between his Jewish consciousness and his involvement with African Americans. The book shines light on his belief in the importance of giving in the present to make an impact on the future, and on his encouragement of beneficiaries to become partners in community institutions and projects. Rosenwald emerges from the pages as a compassionate man whose generosity and wisdom transformed the practice of philanthropy itself.

About Jewish Lives: 

Jewish Lives is a prizewinning series of interpretative biography designed to explore the many facets of Jewish identity. Individual volumes illuminate the imprint of Jewish figures upon literature, religion, philosophy, politics, cultural and economic life, and the arts and sciences. Subjects are paired with authors to elicit lively, deeply informed books that explore the range and depth of the Jewish experience from antiquity to the present.

In 2014, the Jewish Book Council named Jewish Lives the winner of its Jewish Book of the Year Award, the first series ever to receive this award.

More praise for Jewish Lives:

"Excellent" –New York Times

"Exemplary" –Wall Street Journal

"Distinguished" –New Yorker

"Superb" –The Guardian
Praise For Julius Rosenwald: Repairing the World (Jewish Lives)…
"Last summer, Amazon's Jeff Bezos announced that he intended to become more philanthropic and asked for suggestions about how to help people in the 'here and now.' The founder of today's version of Sears, Roebuck could hardly do better than to peruse Ms. Diner's biographical portrait and study Julius Rosenwald's noble example."—Leslie Lenkowsky, Wall Street Journal

"Julius Rosenwald, by Hasia R. Diner, looks at the philanthropic efforts of the man who built Sears, Roebuck into a retail giant but who became better known for financing 5,000 schools for black children in the segregated South. Both his generosity and the conditions he attached to it, Ms. Diner argues, reflected his understanding of the religious principle that Jews should seek to "repair the world."—Marc Levinson, Wall Street Journal, What to Give, Books on Business

"The portrait Diner paints is one of a man whose generosity and belief in Jewish ideals transformed philanthropy and have made an impact on our lives today."—Linda Tucker, Jewish Book Council

"In Julius Rosenwald: Repairing the World, Hasia Diner, a professor of American Jewish history at New York University and two-time recipient of the National Jewish Book Award, gives him the recognition he deserves. . . . Diner documents the spectacular scale, scope, and impact of Rosenwald's gifts."—Glenn Altschuler, Forward Magazine

"A wonderful interpretive biography of a complex man, a visionary whose actions and words, whether we agree with them or not . . . tell a truly remarkable, inspiring story."—Gila Wertheimer, Chicago Jewish Star

Winner of the gold medal in the 2019 Axiom book awards, Memoir / Biography category
 

"At last, a full-bore biography of the American colossus Julius Rosenwald, innovative businessman philanthropist and avatar of three great missions: Jewish opportunity; African American progress; and advancement of the national ideal of exceptionalism. Hasia Diner's richly told and long overdue Julius Rosenwald: Repairing the World, is a masterpiece."—David Levering Lewis, author of King: A Biography and W.E.B. Du Bois: A Biography, and recipient of the Pulitzer Prize


Yale University Press, 9780300203219, 256pp.
Publication Date: October 24, 2017
About the Author
Hasia R. Diner is Paul and Sylvia Steinberg Professor of American Jewish History and director of the Goldstein-Goren Center for American Jewish History at New York University. She is a two-time winner of the National Jewish Book Award. She lives in New York City.