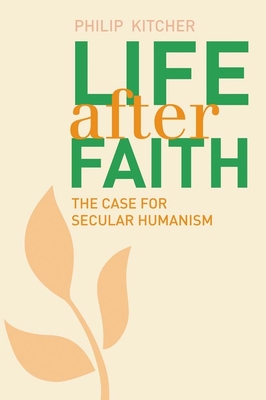 Life After Faith
The Case for Secular Humanism (The Terry Lectures Series)
Hardcover

* Individual store prices may vary.
Other Editions of This Title:
Paperback (10/27/2015)
Description
A positive assessment of secularism and the possibilities it offers for a genuinely meaningful life without religion

Although there is no shortage of recent books arguing against religion, few offer a positive alternative—how anyone might live a fulfilling life without the support of religious beliefs. This enlightening book fills the gap. Philip Kitcher constructs an original and persuasive secular perspective, one that answers human needs, recognizes the objectivity of values, and provides for the universal desire for meaningfulness.
 
Kitcher thoughtfully and sensitively considers how secularism can respond to the worries and challenges that all people confront, including the issue of mortality. He investigates how secular lives compare with those of people who adopt religious doctrines as literal truth, as well as those who embrace less literalistic versions of religion. Whereas religious belief has been important in past times, Kitcher concludes that evolution away from religion is now essential. He envisions the successors to religious life, where the senses of identity and community traditionally fostered by religion will instead draw on a broader range of cultural items—those provided by poets, filmmakers, musicians, artists, scientists, and others. With clarity and deep insight, Kitcher reveals the power of secular humanism to encourage fulfilling human lives built on ethical truth.
Praise For Life After Faith: The Case for Secular Humanism (The Terry Lectures Series)…
"This is the most philosophically sophisticated and rigorous defense of atheism in the contemporary literature. Life After Faith provides an informed and responsible statement of the secular humanist viewpoint."—Gary Gutting, University of Notre Dame
— Gary Gutting

"A brilliant and complete little book. . . tremendously impressive and illuminating."—James Wood, Harvard University
— James Wood

"This book is a deeper and more convincing critique of traditional religious belief than anything written by the New Atheists. Kitcher deals conscientiously with every objection to secular humanism and shows why each one fails."—David A. Hollinger, author of After Cloven Tongues of Fire
— David Hollinger

"Philip Kitcher has composed the most formidable defense of the secular view of life since Dewey. Unlike almost all of contemporary atheism, Life After Faith is utterly devoid of cartoons and caricatures of religion. It is, instead, a sober and soulful book, an exemplary practice of philosophical reflection. Scrupulous in its argument, elegant in its style, humane in its spirit, it is animated by a stirring aspiration to wisdom. Even as I quarrel with it I admire it."—Leon Wieseltier
— Leon Wieseltier

"Philip Kitcher takes seriously the challenge of showing how, without a belief in the transcendent, we can still live lives that are rich with meaning, because they are thoroughly committed to the pursuit of what is good and beautiful and true."—Kwame Anthony Appiah, author of The Honor Code
— Kwame Anthony Appiah

"[An] elegant book . . . a persuasive case that a secular outlook on life can produce value, meaning, and solace . . . Kitcher's real strength is his sensitivity to human suffering and mortality, and the ways in which those concerns must be addressed."—Publishers Weekly
— Publishers Weekly

"A work of major erudition, clarity, and stimulating arguments . . . a welcome contribution to the current god debate. Even more importantly, it is a sophisticated, sensitive, and thought-provoking social and philosophical vision."—Matthew Engelke, Public Books
— Matthew Engelke

"Deeply thoughtful"—Adam Kirsch, New York Review of Books
— Adam Kirsch

'Life After Faith raises the game…the arguments are careful and charitable to opponents, which of course only strengthens them… These matters are complex and call for patient and careful reflection. Thanks to Philip Kitcher the level of debate is improving.'—Philip Goff, TLS.
— Philip Goff
Yale University Press, 9780300203431, 200pp.
Publication Date: October 28, 2014
About the Author
Philip Kitcher is John Dewey Professor of Philosophy, Columbia University. He was the first recipient of the American Philosophical Association's Prometheus Prize for his work to expand the frontiers of science and philosophy. He is the author of many books, including most recently Deaths in Venice.
or
Not Currently Available for Direct Purchase