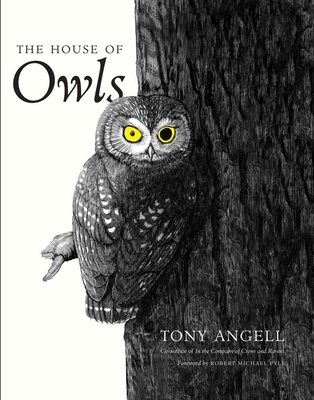 The House of Owls
Hardcover

* Individual store prices may vary.
Other Editions of This Title:
Digital Audiobook (7/6/2015)
Paperback (11/8/2016)
MP3 CD (7/7/2015)
MP3 CD (7/7/2015)
Compact Disc (7/7/2015)
Compact Disc (7/7/2015)
Description
Tony Angell, master artist and naturalist, offers an intimate account of owls he has observed, admired, and depicted for decades  

For a quarter century, Tony Angell and his family shared the remarkable experience of closely observing pairs of western screech owls that occupied a nesting box outside their forest home. The journals the author recorded his observations in, and the captivating drawings he created, form the heart of this compelling book—a personal account of an artist-naturalist's life with owls. Angell's extensive illustrations show owls engaged in what owls do—hunting, courting, raising families, and exercising their inquisitive natures—and reveal his immeasurable respect for their secret lives and daunting challenges.
 
Angell discusses the unique characteristics that distinguish owls from other bird species and provides a fascinating overview of the impact owls have had on human culture and thought. He also offers detailed scientific descriptions of the nineteen species of owls found in North America, as well as their close relatives elsewhere. Always emphasizing the interaction of humans and owls, the author affirms by his own example the power of these birds both to beguile and to inspire. 
Praise For The House of Owls…
"Tony Angell writes (and draws) with the absolute authority of one who has studied, rehabilitated, lived with and loved the animals his whole life . . . This book is alive with his chiaroscuro depictions of owls in every imaginable pursuit."—Wall Street Journal

"The House of Owls is the apotheosis of a life-time's engagement with owls. Steeped in the tradition of Alexander Wilson and John James Audubon, it blends taxonomy, ornithology, biogeography and autobiography."—Janette Currie, Times Literary Supplement

"A charming personal account, accompanied by nearly 100 illustrations, that underscores how owls and other birds enrich our lives."—Kirkus Reviews

"[Angell's] accounts of owls' lives and habits, along with his intimate, detailed illustrations, manage to make the creatures seem both more familiar and more mysterious . . . A tale well-told, beautifully illustrated, and imparted by just the right voice."—American Scientist

Winner of the 2015 National Outdoor Book Award for the Nature & Environment category

"Two worlds of wisdom meet in The House of Owls, nature's own in the survival of an owl family through the generations and the all-seeing eye of the artist who is their host and diarist. Tony Angell magnificently depicts this long mutual near-kinship and much more in words straight from the heart and illustrations masterfully true to life."—Ivan Doig, author of The Whistling Season

"Few artists move us with both words and images. The vigor, unique adaptations and essential life-blood of North American Owls, propelled by powerful illustrations and intimate accounts, animate the pages of The House of Owls, another masterful work by Tony Angell."—Paul Bannick, author of The Owl and The Woodpecker

"The House of Owls is, simply, a delight for a strigiphile like me. But it will also delight any birder or naturalist, and all those who care about the living world and its more remarkable manifestations."—From the Foreword by Robert Michael Pyle, author of Chasing Monarchs and Mariposa Road

"There is no other writer on birds today who so perfectly combines a life of observation with his own art and the kind of up-to-date information one gets from associating with researchers."—Stephen Bodio, contributing editor of Living Bird and author of Aloft, Querencia, and An Eternity of Eagles


Yale University Press, 9780300203448, 224pp.
Publication Date: April 28, 2015
About the Author
Tony Angell is the author or illustrator of numerous books in the fields of art and natural history.
or
Not Currently Available for Direct Purchase