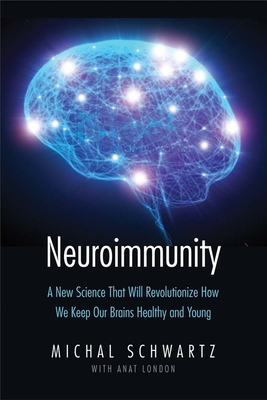 Neuroimmunity
A New Science That Will Revolutionize How We Keep Our Brains Healthy and Young
Hardcover

* Individual store prices may vary.
Other Editions of This Title:
Paperback (6/28/2013)
Paperback (8/11/2013)
Description
Pathbreaking research offers new hope for treating brain diseases and injuries and for maintaining brain health even into old age  

In the past, the brain was considered an autonomous organ, self-contained and completely separate from the body's immune system. But over the past twenty years, neuroimmunologist Michal Schwartz, together with her research team, not only has overturned this misconception but has brought to light revolutionary new understandings of brain health and repair. In this book Schwartz describes her research journey, her experiments, and the triumphs and setbacks that led to the discovery of connections between immune system and brain. Michal Schwartz, with Anat London, also explains the significance of the findings for future treatments of brain disorders and injuries, spinal cord injuries, glaucoma, depression, and other conditions such as brain aging and Alzheimer's and Parkinson's diseases.
 
Scientists, physicians, medical students, and all readers with an interest in brain function and its relationship to the immune system in health and disease will find this book a valuable resource. With general readers in mind, the authors provide a useful primer to explain scientific terms and concepts discussed in the book. 
Praise For Neuroimmunity: A New Science That Will Revolutionize How We Keep Our Brains Healthy and Young…
Won honorable mention for the 2016 PROSE Awards in the Biomedicine & Neuroscience category. Presented by the Professional and Scholarly Publishing (PSP) Division of the Association of American Publishers (AAP)


"Professor Schwartz and her lab have addressed the relationship between the nervous and immune systems in a novel way, providing significant new insights and perspectives in neuroimmunology."—Pablo Villoslada, IDIBAPS and UCSF

"Dr. Schwartz has written a compelling book focusing on her research into the immune-brain connection. She has made quantum leaps in many different fields of medicine."—C. Jane Welsh, Texas A&M University

"This book gives us the opportunity to follow Michal Schwartz on her exciting scientific journey: fifteen years of groundbreaking experimental studies, always from the perspective of how her findings might be used in human disease."—From the Foreword by Olle Lindvall, M.D., Ph.D., Lund University

"Michal Schwartz boldly and lucidly describes the interactions of the immune system and the brain. A leader in the fields of neurobiology and immunology, Schwartz describes the foundations of how these systems work together to prevent damage. When the systems fail to cooperate we learn about clues that may lead to treatments for terrible diseases like Alzheimer's dementia, motor neuron disease and Parkinson's Disease."—Larry Steinman, Stanford University

"Quoting Primo Levi, we could say that this book takes us one step closer to 'the most evanescent and desirous aspiration of a human being, which is that of the human mind that understands itself'."—Gianvito Martino, San Raffaele Institute


Yale University Press, 9780300203479, 320pp.
Publication Date: September 22, 2015
About the Author
Michal Schwartz is professor of neuroimmunology, Department of Neurobiology, Weizmann Institute of Science, Rehovot. She has received numerous awards for her pioneering research and was recently elected president of the International Society of Neuroimmunology. She lives in Rehovot, Israel. Anat London, a former Ph.D. student of Professor Schwartz's, is a science writer at the Weizmann Institute of Science and an intellectual property associate at Foamix Pharmaceuticals, Israel. She resides in Israel.
or
Not Currently Available for Direct Purchase