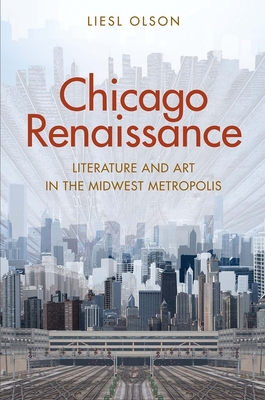 Chicago Renaissance
Literature and Art in the Midwest Metropolis
Hardcover

* Individual store prices may vary.
Description
A fascinating history of Chicago's innovative and invaluable contributions to American literature and art from the late nineteenth to the mid-twentieth century

This remarkable cultural history celebrates the great Midwestern city of Chicago for its centrality to the modernist movement. Author Liesl Olson traces Chicago's cultural development from the 1893 World's Fair through mid-century, illuminating how Chicago writers revolutionized literary forms during the first half of the twentieth century, a period of sweeping aesthetic transformations all over the world. From Harriet Monroe, Carl Sandburg, and Ernest Hemingway to Richard Wright and Gwendolyn Brooks, Olson's enthralling study bridges the gap between two distinct and equally vital Chicago-based artistic "renaissance" moments: the primarily white renaissance of the early teens, and the creative ferment of Bronzeville. Stories of the famous and iconoclastic are interwoven with accounts of lesser-known yet influential figures in Chicago, many of whom were women. Olson argues for the importance of Chicago's editors, bookstore owners, tastemakers, and ordinary citizens who helped nurture Chicago's unique culture of artistic experimentation.

Cover art by Lincoln Schatz
Praise For Chicago Renaissance: Literature and Art in the Midwest Metropolis…
"Olson approaches the subject with academic rigor, she writes with force, as well as originality, crafting fictionalized vignettes of her subjects' experience of the city. A valuable, perspective-shifting work of both cultural and Midwestern history."—Kirkus Reviews

"Vibrant, inclusive, deftly interpretative, and defining chronicle of the rise of modernism in this city of 'intense receptiveness' . . . .With knowledge, insight, and conviction, Olson explicates the unifying power of modernism that brought black and white writers and artists together while feeding the city's hunger for the revelations of story, poetry, and image."—Donna Seaman, Booklist

Chicago Renaissance was awarded the 2018 Pegasus Prize from the Poetry Foundation

"Wonderfully knowledgeable and just as wonderfully readable, Chicago Renaissance will be essential not just for anyone interested in the history of the city but for anyone interested in a brilliantly variegated history of its contribution to modernism."— Walter Benn Michaels, University of Illinois at Chicago

"Liesl Olson has written the book Chicago has been waiting for—a rich, rigorous and definitive cultural history of its turn-of-the-century heyday that's as lively as the time."—Thomas Dyja, author of The Third Coast: When Chicago Built the American Dream

"This is modernism in all its technicolor glory, Chicago style:  the literary ladies and the porkpackers, the Bronzeville poets and the scribbling ad-men.  Dazzlingly learned, revelatory and a cracking great read."—Deborah Cohen, Northwestern University


Yale University Press, 9780300203684, 400pp.
Publication Date: August 22, 2017
About the Author
Liesl Olson is director of Chicago studies at the Newberry Library. She is the author of Modernism and the Ordinary and many essays about twentieth‑century writers and artists.
or
Not Currently Available for Direct Purchase