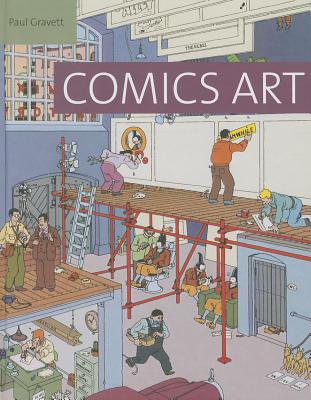 Comics Art
Hardcover

* Individual store prices may vary.
Description
A fascinating overview of the history and influence of comics, ranging from the late 19th century to present-day graphic novels and the Internet

The narrative possibilities of comics art and the accessibility of the form have made it one of the more innovative contemporary genres. Self-publishing and the Internet have given rise to new, autobiographical forms and an increasing number of authors draw from outside the mainstream, whether sexually, ethnically, or politically.
 
In this richly illustrated and accessible survey, acclaimed author Paul Gravett considers the vast output of comics culture from the late 19th century to today, including syndicated comics, graphic novels, and contemporary art and illustration. From foundational masterpieces such as Rodolphe Topffer's and Wilhelm Busch's albums, George McManus's Art Deco "Bringing Up Father," and Alex Raymond's "Flash Gordon" to the later retro stylings of Robert Crumb, Gravett considers lines of influence from around the world and examines how comics have shifted from supporting the status quo to becoming the voice of alternative subcultures. Gravett traces the major themes taking place in contemporary comics, noting the rise of publications that function as questioning, transgressive outlets for outsider stories and ideas, and includes the ways that folk art traditions are reinvigorating the form.
Praise For Comics Art…
"A remarkable achievement. Intensely detailed but never intimidating, [Comics Art] approaches this bizarre, wonderful medium with complete enthusiasm and a keen, articulate critical eye. If you're looking for a primer on comics history, you won't find one better."—Alasdair Stuart, Comic Heroes (five-star review)
— Alasdair Stuart

"A gem of a book"—Rachel Papachlimitzou, Aesthetica
— Rachel Papachlimitzou

"Richly illustrated and hugely informative"—Rachel Cooke, Observer
— Rachel Cooke

"There's no better guide to the undiscovered wonders out there . . . [Comics Art] is the culmination of a lifetime's reading, collecting, and thinking. There are mind-blowing images on every page turn."—Toby Litt, New Statesman
— Toby Litt

"Sumptuously illustrated, internationalist in outlook, and very much up to the minute"—Teddy Jamieson, Sunday Herald
— Teddy Jamieson

"Wide-ranging . . . [and] compelling"—J.J. Charlesworth, ArtReview
— J.J. Charlesworth

"Always thought-provoking and informative . . . stunningly conveyed with an incisive selection of illustrations . . . insightful, celebratory, and a powerful advocate for its subject."—Andy Oliver, Broken Frontier
— Andy Oliver

"[A] profusely illustrated analysis of the medium . . . Comics Art is valuable for its insights."—David Luhrssen, Shepherd Express / Express Milwaukee
— David Luhrssen

"One of the most important and influential writers, curators, and thinkers about the medium . . . [Comics Art] covers a lot of ground and approaches comics in a number of very interesting ways."—Alex Dueben, Comic Book Resources
— Comic Book Resources
Yale University Press, 9780300204018, 144pp.
Publication Date: February 3, 2014
About the Author
Paul Gravett is a London-based freelance writer and curator who has worked in comics publishing and promotion since 1981. He was the founder of Escape Magazine and director of The Cartoon Art Trust, UK. He is the author of numerous books, including Graphic Novels: Everything You Need to Know and Manga: 60 Years of Japanese Comics.