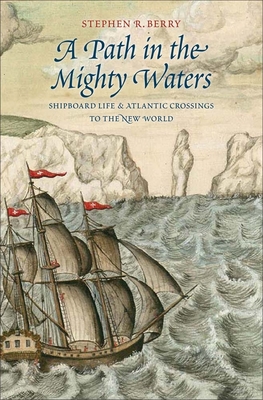 A Path in the Mighty Waters
Shipboard Life and Atlantic Crossings to the New World
Hardcover

* Individual store prices may vary.
Description
A vivid and revealing portrait of shipboard life as experienced by eighteenth-century migrants from Europe to the New World

In October 1735, James Oglethorpe's Georgia Expedition set sail from London, bound for Georgia. Two hundred and twenty-seven passengers boarded two merchant ships accompanied by a British naval vessel and began a transformative voyage across the Atlantic that would last nearly five months. Chronicling their passage in journals, letters, and other accounts, the migrants described the challenges of physical confinement, the experiences of living closely with people from different regions, religions, and classes, and the multi-faceted character of the ocean itself.
 
Using their specific journey as his narrative arc, Stephen Berry's A Path in the Mighty Waters tells the broader and heretofore underexplored story of how people experienced their crossings to the New World in the eighteenth century. During this time, hundreds of thousands of Europeans—mainly Irish and German—crossed the Atlantic as part of their martial, mercantile, political, or religious calling. Histories of these migrations, however, have often erased the ocean itself, giving priority to activities performed on solid ground. Reframing these histories, Berry shows how the ocean was more than a backdrop for human events; it actively shaped historical experiences by furnishing a dissociative break from normal patterns of life and a formative stage in travelers' processes of collective identification. Shipboard life, serving as a profound conversion experience for travelers both spiritually and culturally, resembled the conditions of a frontier or border zone where the chaos of pure possibility encountered an inner need for stability and continuity, producing permutations on existing beliefs.
 
Drawing on an impressive array of archival collections, Berry's vivid and rich account reveals the crucial role the Atlantic played in history and how it has lingered in American memory as a defining experience.
Praise For A Path in the Mighty Waters: Shipboard Life and Atlantic Crossings to the New World…
"Extremely well researched and beautifully written"—Erik R. Seeman, author of 
Death in the New World
— Erik R. Seeman
"Evocative and engaging, Berry's study makes significant contributions to our understanding of Early American culture, spirituality, and the Atlantic World."—Richard Godbeer, University of Miami
— Richard Godbeer
"In this innovative work, Stephen Berry focuses on the experience of oceanic travel, utilizing overlooked sources to uncover individual understandings of faith as well as novel interactions across denominational and ethnic divides. 
A Path in the Mighty Waters
 is elegantly written, and deserves to be widely read."—Carla Gardina Pestana, University of California, Los Angeles
— Carla Gardina Pestana
"For a generation we have done Atlantic history without the ocean. By masterfully charting a complex space, Stephen Berry reminds us in his original book that the Atlantic system that emerged in the eighteenth century was nothing more, nor less, than the sum total of the hopes and fears of those who ventured from Old Worlds to New."—Patrick Griffin, University of Notre Dame
— Patrick Griffin
"Sailor-scholar Stephen Berry, part of a growing band of maritime historians, takes us 'down to the sea in ships' for a memorable and well-researched ocean crossing.  He vividly shows that their ocean sojourn gave voyagers a preview of the unfamiliar diversity they would face in America, and he rightly emphasizes the spiritual aspect of their journey."— Peter H. Wood, author of 
Strange New Land: Africans in Colonial America
— Peter H. Wood
"
A Path in the Mighty Waters
helps restore the ocean itself to Atlantic history. In Stephen Berry's adroit telling, the collision of profane terror and spiritual epiphany at sea forever shaped the mental world of migrants to early America."—Jon F. Sensbach, author of
Rebecca's Revival: Creating Black Christianity in the Atlantic World
— Jon F. Sensbach
"Berry's innovative reading of logs, letters, and diaries explores how cramped, uncertain voyages shaped American Protestantism. The way of the ship has never been imagined like this."—W. Jeffrey Bolster, author of
The Mortal Sea: Fishing the Atlantic in the Age of Sail
— W. Jeffrey Bolster
"Nowhere has the intellectual, emotional, spiritual, and physical significance of European Atlantic crossings emerged so expressively, and seldom has the "middle passage" for captured Africans been so graphically rendered.  
A Path in the Mighty Waters 
simply sticks in the mind, a testament to fresh, comparative research and compelling prose."—Jon Butler, Yale University
— Jon Butler
"A well-researched and beautifully written account of the important role the Atlantic has played in American history."—
Mystic Seaport Magazine
— Mystic Seaport Magazine
"Berry's work...seeks to trace the experience of the Atlantic crossing from embarkation to landing. He uses the well-documented 1735–36 expedition from England to Georgia led by James Oglethorpe to provide a narrative arc for the study. . .Beyond [it's] elegant thesis,
A Path in the Mighty Waters
includes valuable research about the more mundane shipboard experiences of travelers."—Denver Brunsman,
William and Mary Quarterly
— Denver Brunsman
"Learned and gracefully written."—
The Christian Century
— The Christian Century
Yale University Press, 9780300204230, 336pp.
Publication Date: January 13, 2015
About the Author
Stephen R. Berry is an associate professor of history at Simmons College, where he teaches courses in Early American, Atlantic World, and American religious history. He enjoys sailing and wrote part of this book at the Munson Institute of Mystic Seaport.
or
Not Currently Available for Direct Purchase