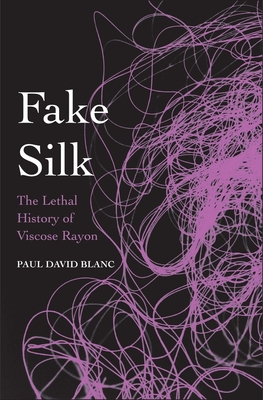 Fake Silk
The Lethal History of Viscose Rayon
Hardcover

* Individual store prices may vary.
Description
When a new technology makes people ill, how high does the body count have to be before protectives steps are taken?

This disturbing book tells a dark story of hazardous manufacturing, poisonous materials, environmental abuses, political machinations, and economics trumping safety concerns. It explores the century-long history of "fake silk," or cellulose viscose, used to produce such products as rayon textiles and tires, cellophane, and everyday kitchen sponges. Paul Blanc uncovers the grim history of a product that crippled and even served a death sentence to many industry workers while also releasing toxic carbon disulfide into the environment.
 
Viscose, an innovative and lucrative product first introduced in the early twentieth century, quickly became a multinational corporate enterprise. Blanc investigates industry practices from the beginning through two highly profitable world wars, the midcentury export of hazardous manufacturing to developing countries, and the current "greenwashing" of viscose as an eco-friendly product. Deeply researched and boldly presented, this book brings to light an industrial hazard whose egregious history ranks with those of asbestos, lead, and mercury.
Praise For Fake Silk: The Lethal History of Viscose Rayon…
"The book is well researched and clearly written, with a passionate concern for the impact of carbon disulphide on workers. . . this book will be very appealing to scholars as well as to general readers interested in the history of the rayon industry, the history of occupational health, or the unbridled use of toxic materials by industry."—Peter Morris, Ambix

"It is a fast paced and shocking tale. . . Rather than chart occupational health
through a specific industry Fake Silk focuses on the substance, which permits a much
broader and deeper reach into politics, economics, environmentalism and culture both in
terms of both historical research and its audience."—Social History of Medicine

"Action-packed . . . Reading Fake Silk, I could not help but wonder about the manufacturing process behind my T-shirt or the new dress hanging in my closet. Was someone harmed in the making of the kitchen sponge I just unwrapped?"—Science

"A brilliant analysis of the history of carbon disulfide, and especially its use in the production of two classic consumer products of the twentieth century, rayon and cellophane. But of course, as with any good history, it is much more. . . . This transnational—indeed, international—history is breathtaking in its scope, for it encompasses economic, medical, industrial, labor, and cultural history in its purview. In short, this is an essential book for anyone interested in how a powerful industry can affect the health and well-being of workers and others across the globe."—Gerald Markowitz, American Journal of Industrial Medicine
 

"[Fake Silk], looking past the allure of silky rayon and cellophane, exposes the public health dangers of manufacture. This is a major and significant work."—Choice

Fake Silk reminds us that the productivist war is ongoing, and that we have all the scientific and technical capacity to bring it to an end: only political will is lacking.—Pascal Marichalar, Journal of Public Health Policy

"It is unusual to find a book that successfully combines a discussion of contemporary pop culture, a detailed analysis of chemical production and a sweeping narrative of the pitfalls in regulating multinational businesses. The book is well paced and well written and will appeal to medical, business and labour historians as well as to those with an interest in writing the global history of a particular product or illness."—Julia Moses, Medical History

"This book is recommended not only to the occupational health community but also to a more general audience who can be drawn into the drama over more than a century that Blanc unfolds. The silk may be fake, but this history is the
real thing."—Howard Kipen, New Solutions: A Journal of Environmental and Occupational Health Policy

"A case study of epic failure in risk management and is as such a clear demonstration of the different values that our society and others place on people in their role as workers compared to people in their role as citizens meriting protection from environmental hazards."—Tee L. Guidotti, Risk Analysis

"Fake Silk's history of rayon shows . . . that the battles of workers and their allies to reform or eliminate documented killer industries must continue in the foreseeable future, with or without the support of politicians and governments."—Daniel Berman, International Journal of Health Services

"A marvelous book that marks . . . a new stage of historical analysis. . . . A heartfelt effort of wide scope and great interest to both medical and social historians."—David Rosner, Bulletin of the History of Medicine

"This very readable, meticulously detailed and wide-ranging account forms an excellent addition to the history of occupational health"—Vicky Long, History of Psychiatry

"In his powerful and important book of environmental and labor history, Fake Silk: The Lethal History of Viscose Rayon, Paul David Blanc, a professor of medicine and an endowed chair of occupational and environmental medicine at the University of California, San Francisco, notes that rayon and cellophane do not appear to present health dangers to the consumers who use them."—McKay Jenkins, Environmental History

"Fake Silk is a powerful and important book. . . .This is a deeply researched contribution to the history of the occupational diseases stemming from the manufacture of rayon and cellophane."—Mark Aldrich, Technology and Culture

"Paul Blanc's book compellingly chronicles the all-too-real dangers behind the production of 'fake' silk. A terrifying exposé of what happens when the textile business puts profits before health."—Alison Matthews David, author of Fashion Victims:The Dangers of Dress Past and Present


"This is an essential read for all interested in the history of occupational disease and of our increasing knowledge, yet failure to implement, the controls needed to reduce the risk of preventable disease and premature death."—Sir Anthony Newman Taylor, Imperial College, London


"Blanc's meticulous research has yielded a calm and overwhelming indictment of the murderous treatment that rayon workers worldwide have endured at the hands of their corporate masters."—Eric Frumin, Health and Safety Director, US trade union federation Change to Win


"A shocking story. Blanc draws back the curtain on the corporate deceit and neglect connected to products that have come to epitomize modern life."— Frederick Rowe Davis, author of Banned: A History of Pesticides and the Science of Toxicology

"A fascinating investigation into the colorful century-long history of a pernicious industrial hazard. A cautionary must-read for anyone who cares about eco-friendly living and integrity too."—Don Katz, founder, Audible.com



Yale University Press, 9780300204667, 328pp.
Publication Date: November 15, 2016
About the Author
Paul David Blanc, M.D., is professor of medicine and holds the Endowed Chair in Occupational and Environmental Medicine, University of California, San Francisco. He is author of How Everyday Products Make People Sick and posts a "Household Hazards" blog for Psychology Today.
or
Not Currently Available for Direct Purchase